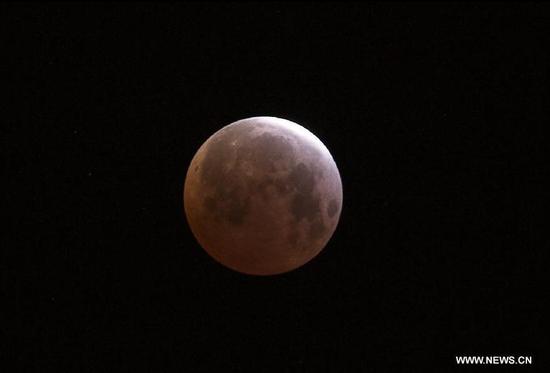 Photo taken on April 4, 2015 shows a total lunar eclipse observed in Tijuana, Baja California, in the northwest of Mexico. (Photo: Xinhua/Guillermo Arias)
Orbital paths of the Earth and the moon are aligning next month to provide a unique visual treat to stargazers. The alignment will result in the longest lunar eclipse of the 21st century.
The lunar event will be visible to most people living in the Eastern hemisphere: Europe, Africa, Asia, Australia and New Zealand. The eclipse will also be visible from a few parts of South America.
However, North America and most parts of Arctic region would be deprived of this unique celestial event.
Most parts of Asia, Indonesia, and Australia will be able to view the eclipse in the morning, between midnight and sunrise on July 28 to be precise. The total eclipse will last for a whopping one hour and 43 minutes.
A similar lunar event on January 31 this year lasted for one hour and 16 minutes. The partial eclipse will make the July's lunar event even longer, from start to finish; the moon will take nearly four hours to cross the Earth.
The moon will pass through the Umbra – Earth's darkest shadow – giving the moon a red color. The eclipse would be visible with naked eye in most parts of the world.
Such a prolonged lunar eclipse occurs when the moon passes through Earth's central shadow. Previous total lunar eclipse was short because the moon passed through the south of Earth's shadow.
July's full moon will happen at the same time as the Moon's apogee – which is when the moon hits its furthest point from Earth in its monthly orbit, according to EarthSky.
It will be the smallest and furthest full moon of the year, which means the moon will take more time to pass through Earth's dark shadow, making the eclipse last longer.
Eclipse Time: July 27 2018
Partial eclipse begins: 18:24 ( 6:24 pm) UTC
Total eclipse begins: 19:30 (7:30 pm) UTC
Greatest eclipse: 20:22 (8:22 pm) UTC
Total eclipse ends: 21:13 (9:13 pm) UTC
Partial eclipse ends: 22:19 (10:19 pm) UTC
Courtsey: EarthSky