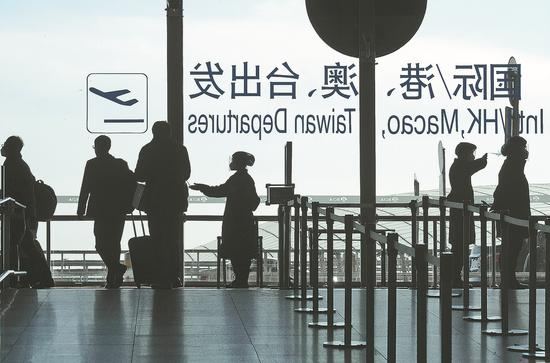 Travelers enter a terminal at Beijing Capital International Airport to take flights on Thursday as some restrictions for travel were eased. (CUI JUN/FOR CHINA DAILY)
Special: Battle Against Novel Coronavirus
Foreign Ministry spokesman Wang Wenbin said on Wednesday that the hype and distortion by some Western media about China's readjustment of its COVID-19 prevention and control measures while remaining silent about their countries' chaotic pandemic response is "a complete double standard and a serious violation of journalism ethics".
Wang made the remark at a daily news conference, at which he condemned attempts by Western media to discredit China's recent readjustment of its epidemic prevention and control policies as smears filled with bias and political manipulation with ulterior motives.
China has adopted measures to shift its COVID policies since November. Earlier this week, the country announced its decision to downgrade the management of COVID-19 and treat it as a Class B infection, as well as provisional measures loosening restrictions on cross-border travel.
Wang stressed that for the past three years the Chinese government has mobilized all resources and spared no effort to protect every Chinese citizen when the virus was most rampant, adding that China has the lowest incidence of severe COVID cases and the lowest COVID mortality rate in the world.
China readjusted its epidemic response as the Omicron variant was obviously less pathogenic and virulent than the previous ones, and as the nation had kept increasing its capacity to treat, test and vaccinate its people against COVID-19, Wang pointed out.
Such readjustment is scientific, timely and necessary in terms of safeguarding people's lives and health while reducing the impact of the pandemic on the economy and society, he added.
China, like all other countries, will need time to accommodate to policy changes, and the COVID situation in China is predictable and under control on the whole, with Beijing having passed the peak of the outbreak, the spokesman added.
Some foreign chambers of commerce and diplomatic missions in China have responded positively to China's COVID policy shift. The French Embassy in China posted on social media on Tuesday that it welcomed Chinese people to visit France.
China will work to curb COVID while ensuring economic and social development, and will expand its opening-up unswervingly, Wang said, adding that it will strengthen cooperation with all parties to tackle the pandemic, maintain the safety and stability of global industry and supply chains, and promote the resumption of world economic growth.