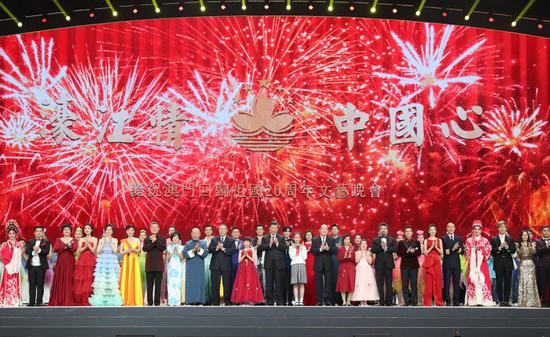 Chinese President Xi Jinping attends a grand gala in celebration of the 20th anniversary of Macao's return to the motherland in Macao, south China, Dec. 19, 2019. (Xinhua/Huang Jingwen)
Special: 20th Anniversary of Macao's Return to Motherland
Chinese President Xi Jinping on Thursday evening attended a grand gala in celebration of the 20th anniversary of Macao's return to the motherland.
Xi, also general secretary of the Communist Party of China Central Committee and chairman of the Central Military Commission, was present at the variety show in the Macao East Asian Games Dome.
Xi and his wife Peng Liyuan, accompanied by Macao Special Administrative Region (SAR) Chief Executive Chui Sai On and his wife Fok Wai Fun, arrived at the dome at around 8:00 p.m.
Beginning with southern Guangdong lion dance, the gala included performance of classical songs expressing love for the motherland and Macao, a multimedia show displaying the glorious achievements of Macao in the past 20 years, as well as traditional operas and Portuguese-style dances depicting Macao's unique charm of a combination of Chinese and Western cultures.
At the end of the gala, Xi, accompanied by Chui and incoming Macao SAR Chief Executive Ho Iat Seng, stepped onto the stage and shook hands with main cast members. Xi also joined them in singing a patriotic song to deliver wishes for the motherland's prosperity and Macao's brighter future.