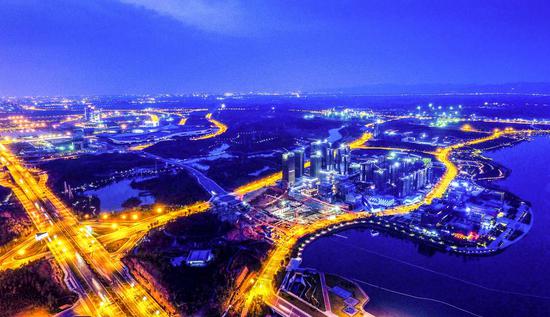 Aerial photo taken on April 22, 2017 shows buildings of a science city in Chengdu Tianfu New Area of China (Sichuan) Pilot Free Trade Zone (FTZ), southwest China's Sichuan Province. (Xinhua/Xue Yubin)
Chinese Premier Li Keqiang will chair the 8th China-Japan-ROK leaders' meeting in China's southwestern city of Chengdu on Dec. 24, Foreign Ministry spokesperson Hua Chunying announced Tuesday.
President of the Republic of Korea (ROK) Moon Jae-in and Japanese Prime Minister Shinzo Abe will attend the meeting, Hua said.
Hua said this year marks the 20th anniversary of China-Japan-ROK cooperation, which has yielded fruitful results.
She said this year's meeting will focus on the next decade, elevate the level of cooperation among the three countries, and promote peace, stability, development and prosperity in the region and the world.