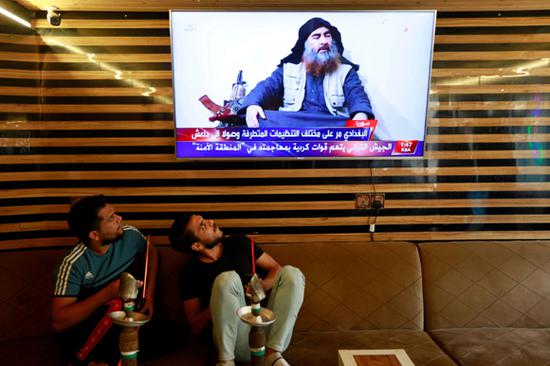 Iraqi youth watch the news of Islamic State leader Abu Bakr al-Baghdadi death, in Najaf, Iraq October 27, 2019. (Photo/Agencies)
The reported demise of Islamic State's elusive leader Abu Bakr al-Baghdadi provides impetus for the international community to jointly root out terrorist forces in the Middle East.
Baghdadi killed himself by detonating a suicide vest as a U.S. special operations raid into northwest Syria aimed to capture him, United States Defense Secretary Mark Esper said on Sunday. Russia has expressed doubts that Baghdadi was killed.
China has always advocated the international community to jointly crack down on terrorism by addressing both its symptoms and roots, Foreign Ministry spokesman Geng Shuang said on Monday.
Geng said at a daily news conference that China is paying close attention to the development.
Terrorism is a common enemy of the international community and China itself has been a victim of terror, Geng said, adding that the country has always opposed terrorism in all forms and actively participates in the global fight against it.
He called on the international community to enhance cooperation and make efforts to eliminate terrorist breeding grounds.
Zou Zhiqiang, a researcher at Shanghai International Studies University's Middle East Studies Institute, said it requires both global and regional cooperation to counter terrorism. But the current level of cooperation is not enough as global powers still differ with each other in their Middle East policies and support different groups for their own interests, leaving terrorism able to find room to grow bigger.
"Years of efforts have greatly reduced the power of organized terror groups, and indeed it will take some time and effort for IS to form a powerful team with a new leader. This is the progress anti-terror actions in the Middle East, especially in Syria, has made," Zou said.
Baghdadi led the notorious terrorist group since 2010.
Li Wei, a researcher at the China Institutes of Contemporary International Relations, said Baghdadi's death would definitely dampen internal morale and create a leadership struggle within IS.
"But we should also keep in mind that IS may have been long considering the layout of a post-Baghdadi era, especially as there was information of Baghdadi suffering from several health issues," Li said.
He said the good news should not result in a great celebration but should serve as a reminder to the international community of the need to develop a response to any future terror attacks.
Li said IS still has relatively strong military strength. "In the short term, the international security situation could even deteriorate as the terrorist group may initiate retaliatory action. The frequency of terrorist attacks may see a certain rebound in some countries."
Zou, the international studies researcher, added the possibility of the rise of new terrorist organizations cannot be ruled out considering the changing situation in Syria and neighboring regions.
Defense officials in Iraq and Afghanistan who study IS and have watched its movements say the group is growing in power and numbers outside of Syria.
ISIS-Khorasan, its affiliate in Afghanistan, is expanding into other countries, including Pakistan, Tajikistan, Iran, India, Bangladesh and Indonesia.
Zou added that outside military intervention has become an increasingly important factor affecting the stability of Middle East countries.
"Some countries use anti-terror as their banner to achieve their own goals, especially when multiple forces compete in an intervention. The competition may result in complex outcomes that no one wants to see, such as the rise of terrorism."
Ultimately, Middle Eastern countries have to face their challenges and problems by themselves, with all foreign forces withdrawing from the area in order to preserve regional stability.
"But ironically, it is not for Middle Eastern countries to decide whether foreign troops should stay or not," Zou said.
He added that powers interfering in the region will not give up their presence and positions easily.