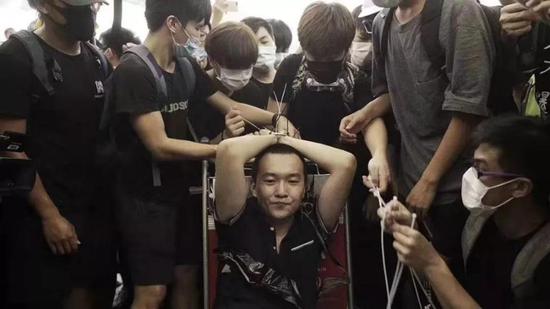 Fu Guohao, a reporter with Global Times, is bound with zip ties by violent protesters. (Global Times Photo)
The Liaison Office of the Central People's Government in the Hong Kong Special Administrative Region (HKSAR) on Wednesday strongly denounced the violent acts against two travelers from the Chinese mainland by radical protesters at Hong Kong International Airport on Tuesday night.
"Rioters on Tuesday detained, harassed and assaulted a visitor and a journalist from the Chinese mainland. Such violent acts could almost be described as 'terrorism'," the liaison office said in a statement, adding that it will support the Hong Kong police to bring rioters to justice.
Fu Guohao, reporter with Chinese mainland media outlet Global Times, was bound with zip ties and assaulted by some violent protesters.
HK 'severely condemns' protesters for paralyzing airport
Some radical protesters have lost their judgment, impeding, cursing and even assaulting travelers of different genders and from different countries, according to the statement.
This has seriously hurt Hong Kong's international reputation, it added.
Rioting behaviors like illegally detaining and brutally assaulting the journalist are basically the same as terrorist acts, the office pointed out.
"We want to express our deep condolences to the two victims and show our deepest respect to the reporter who voiced support for the Hong Kong police."
The liaison office has also given firm support toward the Hong Kong police and hoped they could arrest the rioters in accordance with the law.