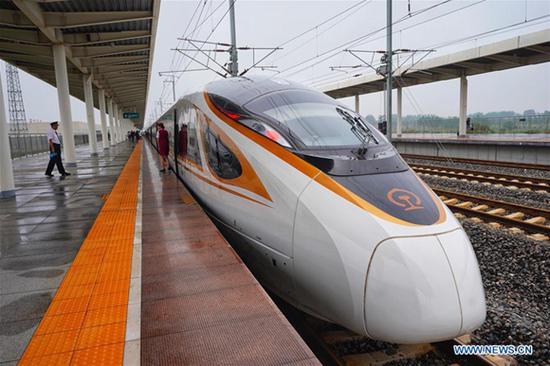 Bullet train G305 arrives at Baiyangdian Railway Station in Xiongan New Area, north China's Hebei Province, July 10, 2019. (Xinhua/Xing Guangli)
Special: 70th birthday of PRChina
(ECNS) - China's high-speed railway lines had extended to 30,000 kilometers by the end of 2018, accounting for two-thirds of the global total, according to a report by the National Bureau of Statistics.
The report said China's railway lines were just 22,000 kilometers long when the People's Republic of China was founded in 1949, while highway mileage was 81,000 kilometers, with no high-speed roads at all.
After seven decades of development, the country's transportation network has become comprehensive and advanced.
By the end of 2018, railway lines reached 132,000 kilometers in length, five times longer than in 1949. This included 30,000 kilometers of high-speed railway lines, 44.5 times higher than in 2008 and an average annual growth of 46.2 percent.
China has formed what's known as a "Four Vertical and Four Horizontal" network of high-speed railway lines.
The country has also made dramatic progress in expanding its expressway network and civil aviation capabilities.
The total length of highways reached 4.85 million kilometers, 60 times as much as in 1949. By the end of 2018, the total length of China's expressway network reached 142,300 kilometers, the world's largest expressway system by length.
The report also said that China had 4,945 regular flights, 412 times higher than in 1950, and 230 domestic cities linked by flights.