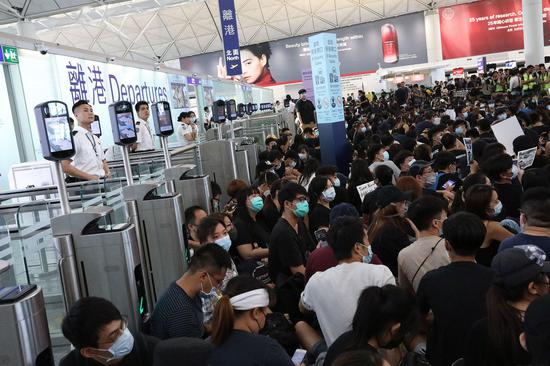 Protesters clog the departure area of Hong Kong International Airport in the evening of Aug 13, 2019. (Photo/CHINA DAILY)
On Wednesday morning, a Hong Kong court issued an interim injunction order, prohibiting the protesters from staying at the Hong Kong International Airport, after the aviation hub was paralyzed for two days since Monday.
According to a statement issued by the Airport Authority on Wednesday about 8:30 am, the injunction order prohibits any person from unlawfully and willfully obstructing and interfering with proper use of the airport.
The authority is in the process of obtaining sealed copies of the injunction order, it said.
How the airport shutdown affects Hong Kong's economy in a day
The Hong Kong International Airport shut down due to protests on Monday, which severely impacted the economy and businesses, according to the authority.
As the world's eighth busiest airport, the Hong Kong airport handles around 200,000 passengers every day. Over 230 flights were canceled on Monday due to a massive unauthorized sit-in at the airport. Five thousand protesters occupied the airport's departure and arrival halls. Crowds blocked roads to the airport and parking lots. The cancellations left tens of thousands of passengers stranded. >>>