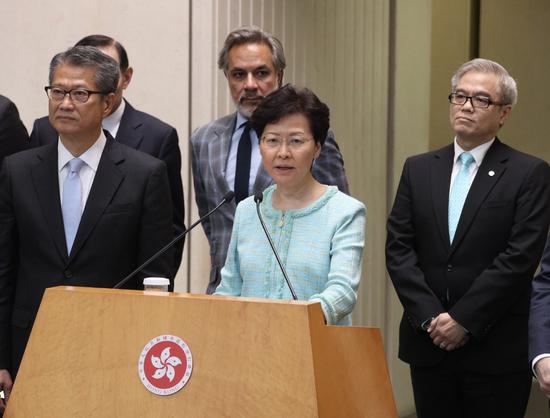 Chief Executive of China's Hong Kong Special Administrative Region (HKSAR) Carrie Lam speaks to the press on Friday. She has urged an end to violence to lift Hong Kong out of the economic plight. (Photo/Xinhua)
Hong Kong Chief Executive Carrie Lam Cheng Yuet-ngor has told British Foreign Secretary Dominic Raab that the "one country, two systems" has been successfully implemented in the special administrative region since its return to the motherland and that the rule of law has been the core value of the city.
The conversation was made on Friday morning (Hong Kong time) during a phone call at the request of the British Consulate-General Hong Kong, according to a press release issued by the SAR government on Saturday.
Lam also introduced to Raab the background and objectives of the legislative amendment exercise in Hong Kong. She emphasized to Raab that the legislative amendment exercise had been put to a complete stop two months ago.
With regard to recent violent protests in the city, Lam said that while the HKSAR government respected the different views expressed in the community as well as the freedoms of speech and assembly, it would not let violence and illegal behaviors disrupt public order.
She also said the work being done by the Independent Police Complaints Council was in accordance with its statutory functions.
The Hong Kong government has been attaching great importance to collaboration with the UK on such areas as trade, economic affairs and culture in the past two years, Lam told Raab, expressing the hope that bilateral relations can be further strengthened in the future.