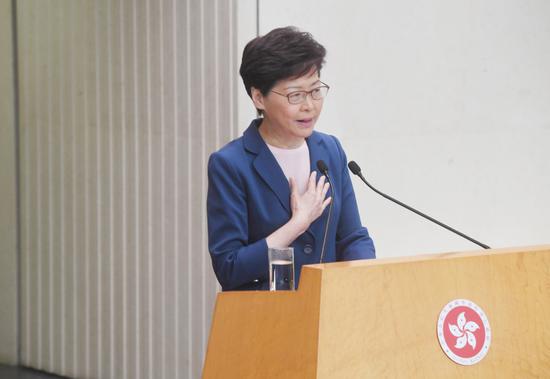 Chief Executive Carrie Lam holds a press conference at the government headquarters in Hong Kong on July 9, 2019. (Photo provided to chinadaily.com.cn)
Hong Kong Chief Executive Carrie Lam Cheng Yuet-ngor on Tuesday pledged more efforts to connect with young people, including overhauling a high-level advisory committee tasked to enhance coordination on youth policies and having more open dialogues with student groups.
The pledges came after the city's top official had vowed to adopt a more open and accommodating governance style in the wake of a series of disputes over the extradition law amendments bill, which Lam said is "dead".
As a major move to manifest the new governance style, Lam promised a major changeover of the current consultative advisory committees appointed by the government.
"I feel that we need to be more innovative. In other words, sometimes we may not need a formal committee. We should build more open platforms to facilitate dialogues in a very frank and exchange manner and to make sure that whoever joins the committees or these dialogues come from different backgrounds," Lam said.
One of the important committees that needs an overhaul, Lam said, is the Youth Development Commission, in a bid to hold a more open dialogue and create platforms to listen to views from young people of diverse backgrounds.
Lam extended invitations to the city's student unions for an open dialogue, without any preconditions. Earlier, her previous proposals that called for closed-door, small meetings with student unions from two universities were rejected.
Lam said on Tuesday that she is willing to meet them openly. Yet she also expressed the hope that the meeting could be conducted with no prerequisites.
At the same occasion, Lam also said the extradition bill was "dead", admitting the government's handling of the issue had been "a complete failure".
"So my sincere plea is please give us an opportunity – the time, the room for us – to take Hong Kong out of the current impasse and try to improve the current situation," Lam said.