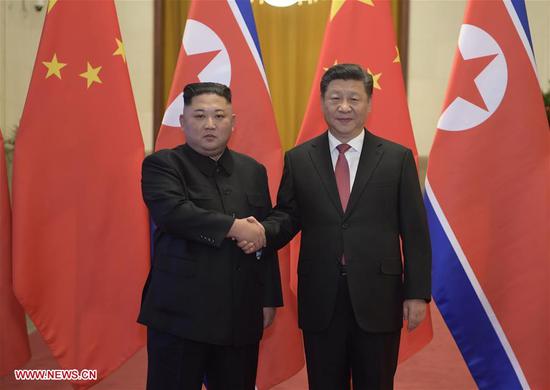 Xi Jinping, general secretary of the Central Committee of the Communist Party of China and Chinese president, holds a welcoming ceremony for Kim Jong-un, chairman of the Workers' Party of Korea and chairman of the State Affairs Commission of the Democratic People's Republic of Korea, before their talks at the Great Hall of the People in Beijing, capital of China, Jan 8, 2019. [Photo/Xinhua]
Leaders to chart course for bilateral relations, exchange views on peninsula situation
President Xi Jinping will make a state visit to the Democratic People's Republic of Korea on Thursday and Friday, the first by a top leader of China in 14 years.
Xi, also general secretary of the Communist Party of China Central Committee, was invited by Kim Jong-un, chairman of the Workers' Party of Korea and chairman of the State Affairs Commission of the DPRK, for the visit, the first since Xi became the CPC's top leader at the 18th CPC National Congress in 2012.
The visit comes as the two countries embrace the 70th anniversary of their diplomatic ties this year. It will be crucially significant to bilateral ties as it will build on the past and usher in the future, said Song Tao, head of the International Department of the CPC Central Committee, at a news briefing on Monday.
During the visit, Xi and Kim will reflect on the development of ties between the countries in the past seven decades, have in-depth talks on the China-DPRK relationship in the new era and set the course for the future of the countries' relations, Song said.
They also will exchange views on the Korean Peninsula situation with a view to pushing for new progress in the political settlement of the nuclear issue on the peninsula, he said, adding that Xi's visit will write a new chapter for relations between the two parties and the two countries and make new contributions to regional peace, stability and prosperity.
Since March 2018, Xi and Kim have met four times in China, most recently in Beijing in January.
Song said China and the DPRK are friendly neighbors and sound development of their bilateral ties conforms to the interests of both countries and their peoples.
Regarding the Korean Peninsula situation, Song said both countries encourage related parties to value the hard-won momentum the Korean Peninsula issue has gained through dialogue. They both remain committed to denuclearizing the peninsula and to the goal of resolving the peninsula issue through dialogue and consultations, he added.
Beijing fully supports Pyongyang in implementing a new national strategy and focusing more on economic growth and better livelihood and in exploring a development path that suits its national conditions, Song said.
Both sides also underline the need to strengthen strategic communications and enhance understanding and mutual trust to safeguard their common interests, he said.
Shi Yongming, a Beijing-based researcher of international relations, said Xi's visit demonstrates the two countries maintain a stable and solid relationship and the top leaders have close strategic communications.
At a time that the process of the Korean Peninsula nuclear issue remains deadlocked, since the Hanoi summit between Kim and United States President Donald Trump fell apart in February, Xi's visit will help push for the issue to develop in a positive way as China plays a unique role, Shi said.