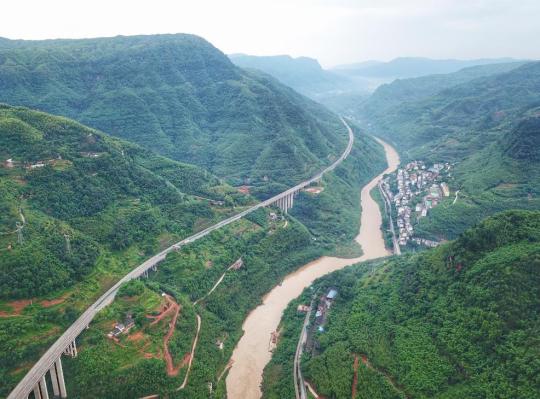 The beautiful scenery of the Chishui River is seen in Chishui, Southwest China's Guizhou province, on June 14, 2019. (Photo/Xinhua)
The manganese ore deposit in Tongren, Southwest China's Guizhou province, has reached 708 million tons, topping all of Asia, according to a report from Guizhou Radio TV station's WeChat account Dongjing Guizhou on June 15.
Manganese is widely used in automobile batteries, high-end equipment manufacturing and new materials. The discovery of manganese ore in Tongren can fundamentally reverse China's dependence on manganese ore imports, and maintain the security of national resources, the report said.
Tongren has four superlarge manganese deposits and one ultralarge deposit, said the report, citing an academician forum on manganese ore of the Ministry of Natural Resources on Sunday.
The number of superlarge manganese deposits in Tongren accounts for one-third of the world's total. Newly discovered manganese resources comprised 660 million tons, including more than 100 million tons of rich manganese deposits, which exceeded the total amount of China's retained resources of manganese ore in 2011.
The finding, as the largest breakthrough in China's history of searching for manganese ore, has changed the country's manganese resource patterns.
Manganese, as a strategic key mineral, is in short supply in China. About 70 percent of the manganese China needs must be imported from abroad every year. The State Council has listed manganese as one of the key minerals, and set targets in exploring manganese ore.