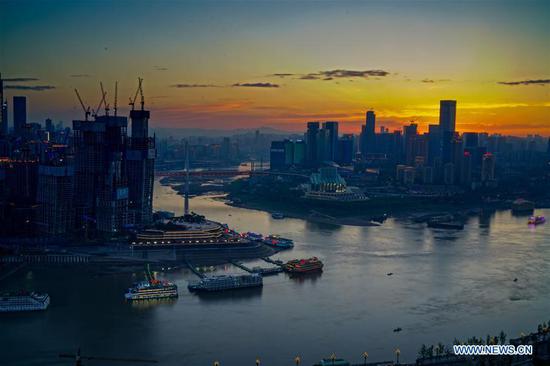 Photo taken on May 3, 2017 shows the Chaotianmen wharf in southwest China's Chongqing Municipality. The Yangtze, the world's third-longest river, runs through nine Chinese provinces and two municipalities, covering 2.05 million square km. The Yangtze River Economic Belt, which accounts for more than 40 percent of both the national population and GDP, is a new growth engine for the country, reducing the development gap between east, central and western regions. (Xinhua/Liu Chan)
Special: NPC, CPPCC Sessions 2019
2019 will see greater protections for the Yangtze River, said Cheng Lifeng, head of the Ministry of Environmental Protection (MEP)'s Department of Nature and Ecology Conservation at a press conference on legislation work of the NPC on the sidelines of the second session of the 13th NPC in Beijing on Saturday.
Cheng's remarks came after CGTN's reporter Hou Na asked a question about drafting the law on Yangtze River conservation. She asked about the latest progress and obstacles to the law.
Cheng said that surveys have been conducted in several provinces, and meetings were held so that voices could be heard from different sectors. The law is expected to be formulated in time.