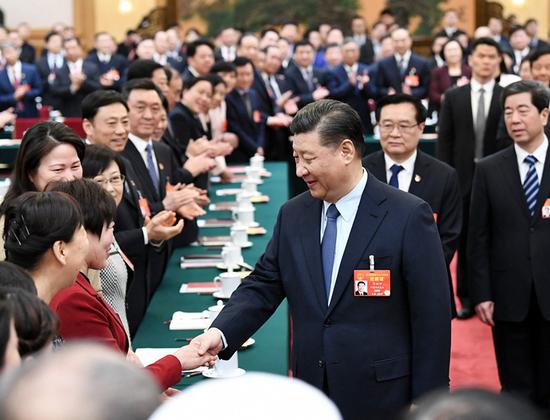 President Xi Jinping extends greetings for International Women's Day to deputies of the National People's Congress during his visit to the Henan delegation in Beijing on Friday. (XIE HUANCHI)
Special: NPC, CPPCC Sessions 2019
Local authorities told to push rural vitalization, guard food security
President Xi Jinping stressed the importance of implementing a rural vitalization strategy and ensuring food security while joining a discussion with deputies to the National People's Congress from Henan province on Friday.
For a country with nearly 1.4 billion people, China must remain highly vigilant on food security issues, said Xi, who is also general secretary of the Communist Party of China Central Committee and chairman of the Central Military Commission.
Calling Henan a major agricultural producer, Xi instructed the local government to build the province into a core food production zone and steadily increase its production capacity.
Xi said some arable farmland is illegally occupied and destroyed in some parts of the country in the process of industrialization and urbanization, and those responsible for such illegal activities must be held accountable.
Local authorities must shoulder their responsibility and keep an eye out for illegal destruction of farmland, Xi said. It's intolerable for some farmland to be destroyed in the name of building parks and squares for the people.
Xi highlighted the significance of advancing supply-side structural reform in agricultural areas, calling it important for farmers to increase their incomes.
A healthy environment is the biggest advantage of rural areas, and it is also the decisive factor in agricultural competition, Xi said, adding that more effort should be made to address pollution problems in rural areas.
The president pledged to fight criminal activities related to food safety and ensure that the people have access to safe agricultural products.
Xi attached great importance to infrastructure construction in rural areas, and he instructed local authorities to focus on building roads, water projects, logistics and internet facilities for farmers.
Xi also instructed local authorities to enhance Party building in grassroots Party organizations in rural areas, boost transparency in rural affairs and enhance supervision of the exercise of power of village officials.
Local authorities should deepen reform and boost opening-up, promote the flow of talent and capital between urban and rural areas and inject more impetus into rural vitalization, Xi said.
He instructed local authorities to deepen reform of the rural farm system and promote high-quality growth in rural areas.
The government must uphold a people-centered philosophy of development and help the people benefit more from the outcomes of reform, Xi said.
During the discussion, eight NPC deputies spoke on such issues as building the Belt and Road, eliminating poverty and enhancing Party building in villages.