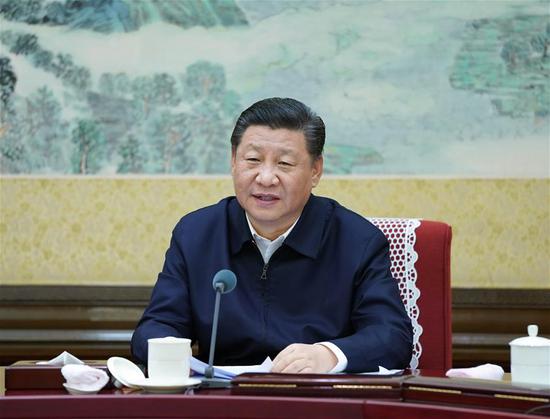 Xi Jinping, general secretary of the Communist Party of China (CPC) Central Committee, presides over a meeting convened by the Political Bureau of the CPC Central Committee in Beijing, capital of China. The meeting was held in Beijing from Dec. 25 to 26, 2018. (Xinhua/Xie Huanchi)
The Political Bureau of the Communist Party of China has called for the Party's senior officials to remain enterprising, assume their political responsibilities and strictly uphold clean governance and self-discipline in a meeting held on Tuesday and Wednesday.
The meeting, chaired by Xi Jinping, general secretary of the CPC Central Committee, underlined the importance of bureau members actively coping with new situations and new challenges and making their utmost efforts to promote steady growth, advance reform, make structural adjustments, improve living standards and guard against risk.
It also stressed the importance of maintaining the work style of the Party's senior officials. Members of the political bureau should practice clean governance and discipline over themselves as well as their family members and staff, according to a statement released after the meeting.
They should serve as the role model for Party members to resolutely prevent and oppose thoughts and cases of seeking privileges and guard against any form of formalism and bureaucracy, it said.
The members of the bureau should also enhance their political responsibilities, maintain their political orientation, enhance their political capacities and resolutely fight against those that cause damage to the Party's political discipline and rules, it said.