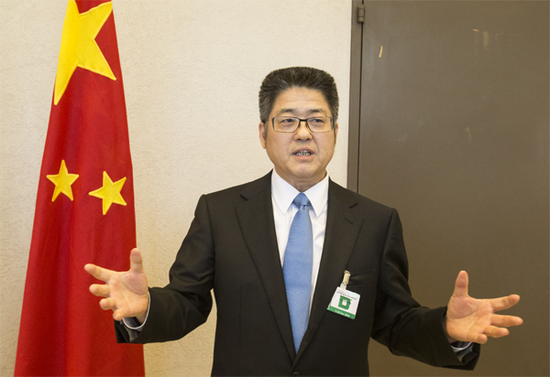 Chinese Vice-Foreign Minister Le Yucheng is seen in this file photo taken on Nov 7, 2018. [Photo/Xinhua]
Vice-Foreign Minister Le Yucheng urgently summoned United States Ambassador to China Terry Branstad on Sunday over the detention of Huawei executive Meng Wanzhou.
Meng, chief financial officer of Huawei, the biggest global supplier of network gear for cellphones and internet companies, and also the daughter of Huawei's founder, was arrested in Canada while transferring in Vancouver for a flight to Mexico on Dec 1.
Le made representations over, and strongly protested against, the U.S. "unreasonably demanding" Canada detain Meng.
What the U.S. has done seriously violates the legitimate and justified rights and interests of a Chinese citizen, and the violation is extremely serious in nature, Le said.
China is firmly opposed to this, and strongly urges the U.S. to attach great importance to China's solemn position, take immediate measures to correct its wrong practices, and revoke the arrest warrant against the Chinese citizen, Le said.
China will base its further responses on the U.S. actions, Le added.
On Saturday, Le summoned Canadian Ambassador to China John McCallum over Meng's detention, calling it "unreasonable, unconscionable and vile in nature".
Le said Meng's detention at the request of the U.S. was a "severe violation" of her "legitimate rights and interests".
The detention of Meng by Canadian authorities in Vancouver without providing any explicit reason constitutes a severe violation of her human rights, observers said.
Washington claimed Huawei has violated sanctions the U.S. imposed on Iran. Huawei has stated that it complies with all laws and rules where it operates, including export controls and sanctions of the United Nations.
Liu Deliang, a professor of law at Beijing Normal University, said the U.S. request for Canada to arrest Meng does not comply with international law, and the long-arm jurisdiction the U.S. adopts is a typical embodiment of its hegemonic practices.
A bail hearing took place at the British Columbia Supreme Court in Vancouver with no conclusion after hours of debate. Meng was reportedly placed in restraining devices used on convicted felons. The hearing will resume Monday after Meng spends the weekend in custody.