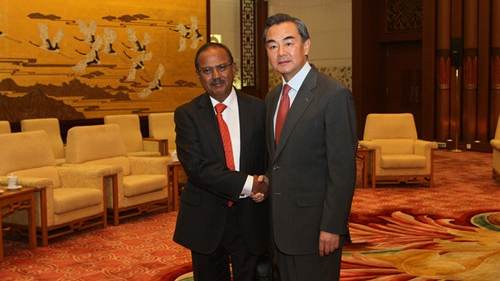 Chinese Foreign Minister Wang Yi meets with Special Envoy of Prime Minister of India and National Security Adviser Ajit Doval at the Great Hall of the People in Beijing, September 9, 2014. (Photo via Chinese Foreign Ministry)
Chinese State Councilor and Foreign Minister Wang Yi said on Saturday that Sino-Indian relationship is showing an all-round improvement and development momentum.
Wang made the remarks during talks with Indian National Security Advisor Ajit Doval at the 21st Special Representatives' Meeting on the China-India Boundary Question in Beijing.
Wang said China and India are great ancient civilizations, the two largest developing countries in the world and the most dynamic emerging economies, with broad common interests and broad cooperation space.
The cooperation between China and India will accelerate the development process of the two countries and make new and important contributions to world peace and human progress, noted Wang.
Wang said Chinese President Xi Jinping's three meetings with Indian Prime Minister Narendra Modi this year, especially the meeting in Wuhan City, have provided a strategic lead for the development of China-India relations.
The relationship between the two countries is showing an all-round improvement and development momentum, and it's necessary for the special representatives' meeting between the two countries to keep up with the positive trend and create more favorable conditions for bilateral relations by promoting border talks.
Doval said with the vision and determination of the leaders of India and China, bilateral ties have reached a turning point under the guidance of leaders of both sides and achieved positive and sound development.
He fully agreed with Wang's statement on the importance of bilateral ties and believed the Indian side would implement the important consensus reached by the two leaders in Wuhan.
India will strengthen strategic communication, enhance political mutual trust with China and seek a fair and reasonable solution to border issues that are acceptable for both sides, said Doval .
He added the two countries should send signals to the world that China and India, as two ancient civilized countries, have the wisdom and ability to solve problems peacefully through dialogue and consultation.
Doval also strongly condemned the terrorist attacks at the Chinese Consulate-General in Karachi and expressed his condolences and Wang stressed the attack was directed at diplomatic agency, which is an intolerable act.
Wang pointed out terrorism is a common threat faced by all countries in the world and the international community should work together to promote anti-terrorist cooperation.