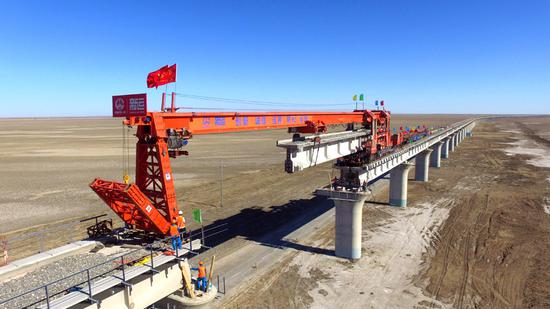 Taitema Lake railway bridge, in a key section of the Golmud-Korla railway-spanning a wetland of the Xinjiang Uygur autonomous region-is designed to avoid harming the fragile ecosystem. (Photo/CHINA DAILY)
Environmental protection is top concern in railroad construction
Environmental protection is a top concern in the ongoing construction of a 1,213-kilometer railway linking the Xinjiang Uygur autonomous region with neighboring Qinghai province, local railway authorities said.
The railway, which will connect Korla in Xinjiang with Golmud in Qinghai, is the first direct rail link between Xinjiang and the Qinghai-Tibet Plateau and the third linking the region with neighboring provinces.
The train passes along areas boasting abundant animal and plant resources, including the Tarim River, China's longest inland river; and the Lop Nur Wild Camel National Nature Reserve, the largest dry desert reserve in Xinjiang.
Located in a lake and wetland area, the Taitema Lake railway bridge, a key section of the Golmud-Korla railway, was designed to avoid harming the fragile ecology. Construction began in May 2016 and the two sections of the bridge were joined in August.
Passing above Taitema Lake, a lake and wetland of about 510 square kilometers, the railway bridge was expanded from its original designed length of 7 km to 24.6 km, making it the longest railway bridge in the region, according to Huang Kejun, manager of the bridge project.
The 752 bridge piers are made of environmentally friendly materials, and construction waste was all transported out of the lake area in a timely manner, Huang said.
"The bridge does not block the flow of water and also allows for the passage of animals living there," he said. "From the bridge, the landscape is in full view."
The 13.2-km Altun Mountain Tunnel, the longest tunnel on the line, is another major engineering project that passes through the Altun Mountains at an average altitude of 3 to 4 kilometers.
According to Wang Xushen, chief security director of the tunnel, "We abandoned the original designed route and bypassed the habitat of wild camels, mountain sheep and the source of the animals' drinking water to avoid harming the ecosystem."
The seamless rails are used to guarantee the designed speed can be achieved, as well as to reduce noise pollution, he said.
Construction of the railway began in 2014, with a planned investment of 37.6 billion yuan ($5.42 billion). The project is scheduled to be wrapped up in 2020. About 708 km of the new line are in Xinjiang, and about 476 km have been completed.
Currently, the distance between Golmud and Korla by rail is about 4,000 km, including a detour to Lanzhou, Gansu province. The new line will cut the journey by more than 1,000 km.
The line will cut travel time between Golmud and Korla from 26 hours to just 12 hours. It will carry passengers at a speed of 120 km/h, as well as freight.
Xinjiang already has two railways connecting the region with other parts of China. One links Urumqi with Lanzhou; the other connects Ejin Banner in the Inner Mongolia autonomous region with Hami in eastern Xinjiang.