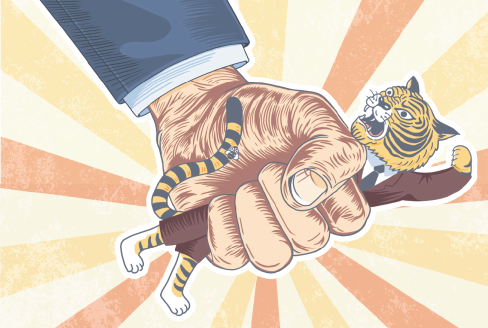 Officials ordered to keep frugality rules in mind during time off 
The country's top anti-graft agency ordered all officials to uphold the Communist Party of China's eight-point frugality code during the coming National Day holiday and to keep the disciplinary rules firmly in mind to avoid violations.
As the weeklong holiday starts on Monday, the CPC Central Commission for Discipline Inspection listed several examples of violations it has uncovered in the past three years as an alert for officials.
According to its website: "Those using public funds for banquets, giving or accepting gifts or money, using official cars without authorization and holding lavish weddings or funerals were frequently found ahead of or during such holidays in recent years."
It ordered officials to pay attention to the code while enjoying the holiday.
From 2015 to 2017, a total of 989 cases in which officials violated frugality rules were exposed by the CCDI during the Mid-Autumn Festival and National Day holidays. Of those, most involved unauthorized payments of bonuses, followed by improper giving or receiving gifts or money. Using official cars without authorization was next on the list, the commission said.
According to the CCDI, Huang Xinping, head of continuing studies school at Tarim University in the Xinjiang Uygur autonomous region, was found improperly paying out bonuses of 225,000 yuan ($32,720) to employees during the holidays.
The seven-day National Day holiday is also taken as a good time for reunions, but the commission said some officials made use of the period over the past three years to deal with private affairs using public money, including holding weddings or visiting friends.
Zhang Waisheng, an official from Fenyi county, Jiangxi province, was exposed for organizing a lavish wedding by inviting 39 tables of family members and friends. Sun Yumin, deputy director of justice bureau of Anci district in Langfang, Hebei province, reportedly received improper gifts and money at a banquet for his grandchild.
In addition, traveling across the country or overseas using public money was also a serious problem during the holidays, the commission said.
"Such holidays are good for allowing officials to have a rest, but discipline must be continuously highlighted during the period," the commission said in its statement, warning officials to avoid being blamed for improperly having a meal or receiving a souvenir.
The commission released a report on Wednesday saying that 7,846 officials involved in 5,565 cases had been punished in August for violating the eight-point frugality code. The code was created by the CPC in December 2012 to curb undesirable work practices of Party members and government officials.
Of the cases, 1,456 were related to the unauthorized payment of bonuses, 1,070 to giving or accepting gifts or money and 838 to the unauthorized use of official cars.