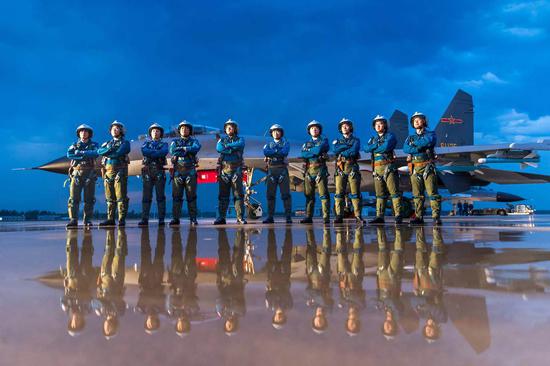 Pilots from an elite fighter jet squadron of the People's Liberation Army Air Force assemble on the tarmac after a training drill. (YANG PAN/FOR CHINA DAILY)
Revised training guidelines have resulted in one of the top units in the PLA Air Force becoming better prepared to counter threats.
Editor's note: China Daily is not authorized to disclose the name of the squadron in this story.
In April, during an aerial combat exercise in the skies above Liaoning province, Ding Tang, a fighter jet pilot with one of the most illustrious squadrons in the People's Liberation Army Air Force, locked onto a target on the ground and began to dive. When he pressed the firing button, several target vehicles were destroyed immediately.
"It is the kind of exercise that develops real combat skills. Before revised training guidelines were issued at the end of last year, we were required to perform several preparatory maneuvers, including locking onto targets and then rehearsing attacks. Now, everything fits real combat standards; the preparatory work has been abandoned and we are required to complete the task in one go," the 31-year-old lieutenant colonel said.
In recent years, the PLA Air Force has intensified training programs and heightened efficiency as the Central Military Commission devises new methods to hone combat ability.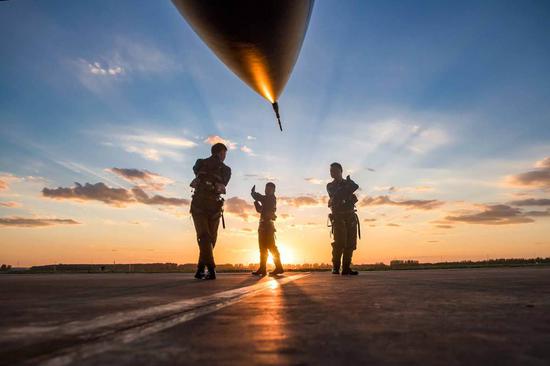 In March 2013, at the First Session of the 12th National People's Congress, President Xi Jinping, who is also chairman of the Central Military Commission, stressed that the ability to fight and win battles must be the military's fundamental objective.
At a mobilization meeting on Jan 3, he issued an order requiring the PLA at all levels to improve training related to combat readiness and make training the central theme of its work to ensure effective results.