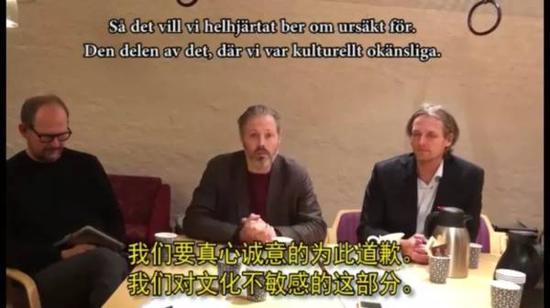 Directors from SVT Mats Grimberg (L), Micke Lindgren (C) and Thomas Hall (R) apologized in a video letter addressed to Sweden's Chinese communities. /Schweden Photo
Directors of Sweden's public broadcaster Sveriges Television (SVT) on Wednesday apologized for a satire program they aired recently that triggered racism accusations by featuring a "do's and don'ts" guide targeting Chinese tourists.
In a meeting with representatives from local Chinese communities, SVT's director Micke Lindgren issued a formal apology in a video message, admitting that the broadcaster had been insensitive to cultural differences and hurt the feelings of individuals, especially children of the Chinese diaspora, Sweden-based Chinese media Schweden reported.
"We feel sorry for the incident. This is not our intention," Lindgren stated. "What we intended to do was to ridicule the prejudice Swedish people have against Chinese in order to express anti-racism."
"The video, however, was programmed into a racist attack. We should've realized the problem earlier," Lindgren said.
In an episode of "Sweden News" aired last Friday, the program host made jokes about a Chinese family who claimed to have been mistreated by Swedish police during a trip to Stockholm in early September.
A short video dubbed in Chinese was played following the reporting, asking Chinese tourists to learn cultural disparities before visiting Sweden. "For example, we don't poop outside historic buildings."
The video prompted a backlash after it was shared on China's video streaming platform Youku, with Chinese netizens condemning the racism they felt it portrayed.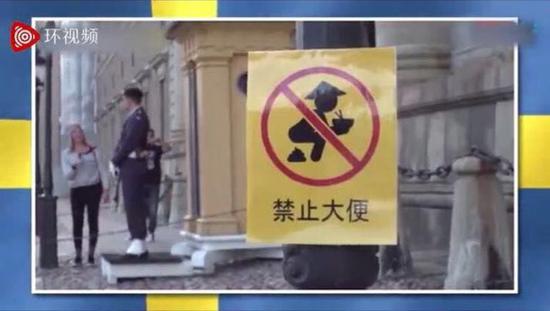 The short video dubbed in Chinese asked Chinese tourists not to poop in front of historic buildings. /Screenshot of SVT's program via huanqiu.com
On Monday, Chinese Foreign Ministry spokesman Geng Shuang said the program "affronted China" and "amounts to a gross insult to and vicious attack on China and the Chinese people."
The program's director Thomas Hall initially refused to apologize, claiming in an interview with SVT that the program's humor was lost in translation and their intention had been misunderstood.  
On Wednesday, however, he joined the broadcaster's two chief directors and appeared in the video apologizing to Sweden's Chinese communities.
The broadcaster promised to issue a formal apology, remove related video content from streaming platforms and prevent a similar incident from happening.