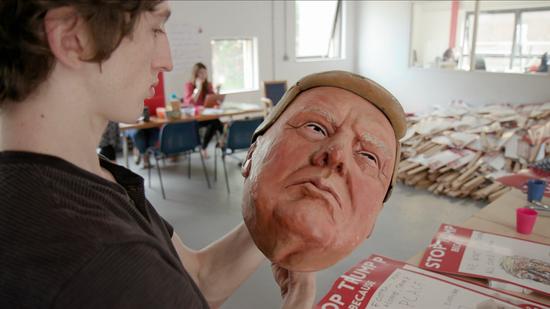 A protester puts the final touches on his Trump mask ahead of Friday's demonstration. /CGTN Photo
U.S. President Donald Trump will get the red carpet treatment when he touches down in the UK on Thursday for a four-day visit. He will have lunch with British Prime Minister Theresa May at her country residence, tea with the Queen at Windsor Castle and enjoy military bands at a gala dinner.
But Trump may find the British people to be far less welcoming. Organizers of anti-Trump protests have promised a "carnival of resistance" that will start as soon as the U.S. president arrives in the UK.
Trump is expected to spend Thursday night at the U.S. ambassador's residence in London. Protesters say they will greet him there with a wall of sound, encouraging people to take pots and pans out of their kitchens and onto the streets for a "Bring the Noise" rally.
More demonstrations are planned later on Thursday evening at Blenheim Palace in Oxfordshire, where Trump and his wife, Melania, will be guests of honor at a dinner.
On Friday morning, a giant balloon depicting the U.S. president as an angry orange baby will fly over parliament. London Mayor Sadiq Khan initially banned the balloon from flying over the city, but decided to allow it after an online petition garnered over 10,000 signatures.
The blimp, known as "Trump Baby," has raised more than 30,000 U.S. dollars, and will be heading off on a world tour after the London protest.
"Once little Donald has been run out of Britain in July, we will start to put together an itinerary," organizers wrote on their crowdfunder page. "TrumpBaby [will] follow little Donald around the world, haunting his diplomatic engagements wherever he goes!"
Protesters have also launched a social media campaign to get Green Day's 2004 hit "American Idiot" to No. 1 on the Official Singles Chart during the U.S. president's visit, while British political band Captain SKA released a Trump remix of their hit song "Liar Liar," which the group says was originally about PM Theresa May.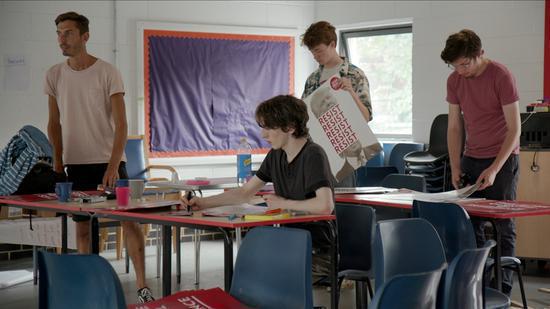 Protesters prepare for huge rallies against US President Donald Trump in the UK. /CGTN Photo
As Trump holds talks with the British prime minister and meets the Queen, mass marches will be held in central London with coaches busing people in from around the UK. Up to 100,000 people are expected, and police will be deployed en masse in what has been described as one of the largest operations in British history.
The U.S. president is largely avoiding the capital and will be steering clear of the demonstrations, but protest organizers say their message will still get through. "I am absolutely sure that he will be watching it and looking at it, and I am sure he will tell us what he thinks on Twitter," said Nick Dearden from Stop Trump Coalition.
Protest organizers say Donald Trump can expect loud but peaceful protests when he comes to the UK. Nevertheless, the U.S. Embassy has taken the unusual step of issuing a warning for Americans in the UK to steer clear of the demonstrations. In a statement on its website, the embassy warned U.S. citizens to "keep a low profile" and be cautious in case protests turn violent.
By Kate Parkinson