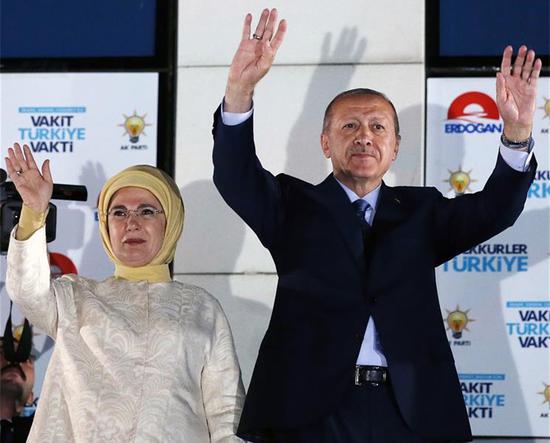 urkish President Recep Tayyip Erdogan greets his supporters with his wife on a rally in front of the Justice and Development Party (AKP) headquarters in Ankara, Turkey, on June 25, 2018. (Xinhua/Mustafa Kaya)
Turkey's long-serving leader Recep Tayyip Erdogan won a clear victory in crucial general elections on Sunday, extending his grip on power and ushering the NATO country into a "new era," said local analysts.
A 52.5-percent victory in presidential elections gives 64-year-old Erdogan, who has ruled Turkey for 15 years, a second five-year term and more powers than any of his predecessors after a narrowly won constitutional referendum last year.
Election authority chief Sadi Guven said on Monday that the president had "received the absolute majority of all valid votes," which is an "outright victory" in the first round of the presidential race.
Erdogan's ruling Justice and Development party (AKP) also won a majority in the legislative race, with the support of his nationalist ally, the Nationalist Movement Party (MHP).
"It is undoubtedly a victory for President Erdogan. Turkey has now an executive president which will be different from previous ones," Serkan Demirtas, a political commentator and journalist, told Xinhua.
"There is a brand new era ahead. Turkish electors gave the key of this new period to its architect after approving his (Erdogan's) constitutional amendments last year," said Demirtas, who is also the Ankara bureau chief of Hurriyet Daily News.
Erdogan's closest challenger, Muharrem Ince, candidate of the main opposition Republican People's Party (CHP), gained 30.7 percent of votes and disappointed his supporters who were hoping for a run-off between him and Erdogan.
The opposition conceded defeat, but said the contest wasn't fair involving a president controlling the media and state resources.
"President Erdogan has been victorious by achieving step by step his ambitions of transforming the political system of Turkey," said Sinan Ulgen, a Turkey specialist at the Carnegie Endowment for International Peace.
"A new period lies ahead for Turkey with a president entrusted with extended executive powers and weak checks and balances," Ulgen explained.
In a speech late Sunday after claiming his victory, Erdogan appeared conciliatory following an aggressive election campaign.
"We should leave behind tensions and grievances made during the election process and instead focus on the country's future. The winner of this election is each and every individual among my 81 million citizens," he told thousands of supporters.
"When we govern our country well, we believe from the heart that our country will achieve great things," said the victorious but calm leader.
Perhaps the biggest and immediate challenge for the Turkish strongman will be improving economy at a time when the national currency has drastically dropped against the U.S. dollar, alarming investors despite substantial interest rate hikes by the Turkish Central Bank.
Erdogan has presided over a strong economy and built up a solid support base by investing in healthcare, infrastructure projects and education.
The Turkish lira climbed sharply on Monday after Erdogan's victory which removed some political uncertainty, rallying more than 2 percent against the dollar, marking the strongest level for the embattled currency in almost two weeks.
"Now there is an important opportunity for the new administration to address structural reforms neglected in the past because of repeated elections since 2014. We will have a five-year period free of elections. This could be a period for growth and developement for Turkey," said Istanbul-based economic analyst Enver Erkan in an e-mailed note.
Huseyin Bagci, a professor of international relations with Middle East Technical University, said Turkey has been "officially switched to the presidential system, as the results were also accepted as legitimate by the opposition."
"The structure in the parliament is also clear. The voter turnout was very high and the gap between Erdogan and his rivals was very clear. Now we will wait and see how this new structure will open Turkey's path both in its internal affairs and the international arena," he said.
Istanbul woke to a quiet day after the election, but the atmosphere in the streets was tense.
In iconic Gezi Park neighboring Taksim Square, police forces have taken heavy security measures. Dozens of riot policemen and water cannons are positioned at the entrance of the square.
The result of the elections has triggered different reactions among the citizens. The supporters of the AKP were confident and convinced from the results while those who voted for opposition parties were distressed.
In Istanbul's landmark Istiklal Street, Orhan Ozturk, a 46-year-old doctor, said his family are the staunch supporters of Erdogan and his ruling party.
"I am wishing the best for Turkey. The ruling party has been serving people well. That's why my wife and I voted for the AKP," Ozturk said.
"We remember how the country and Istanbul looked like before the AKP came into power. There were long queues in hospitals. There was no highway. We have to be satisfied with what we have," he added.
New Young Turks, a non-partisan organization working to build bridges between Turkey and the world through cultural events and political dialogue, said the elections had the highest number of young voters.
"We hope that the new government will endeavor to provide them a continuous voice so they can contribute fully to a prosperous Turkey," the group said in an e-mailed message.
Sekib Avdagic, chairman of the Istanbul Chamber of Commerce, also expressed his contentment about the results of the elections in a press release.
"The Turkish people once again preferred a stable and safe route, instead of stormy and uncertain roads," Avdagic noted.
Baris, a 39-year-old computer engineer, expressed his disappointment about the election returns.
"I voted for the main opposition party (CHP) because I am still thinking that a change is necessary for a fresh Turkey ... I don't think it was a fair election as there were too many rumors on social media. We have to think about what to do in the future," he said.