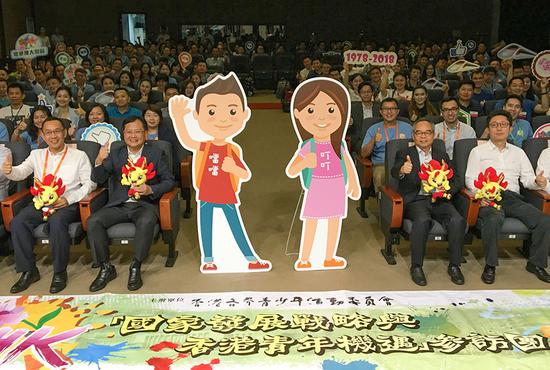 A delegation of about 150 people from Hong Kong kicks off a five-day visit to the Chinese mainland with their thumbs up at Shenzhen Museum on Monday. (HE SHUSI/CHINA DAILY)
A Hong Kong delegation of young adults, which arrived in Shenzhen on Monday for a five-day trip across the country, were told they will learn about its reform and opening-up policy, the latest development strategies and opportunities brought by the new era.
Speaking to the group at a ceremony in Shenzhen, the delegation's head, Kenneth Fok Kai-kong, noted that the trip would enable the young adults to interact with those on the mainland and pursue a better future together.
Fok, a Hong Kong member of the National Committee of the Chinese People's Political Consultative Conference, the country's top political advisory body, said it was about time for Hong Kong's younger people to deepen their understanding of the country, as 2018 marks not only the 40th anniversary of the country's reform and opening-up, but also the 21st anniversary of Hong Kong's return to China.
The five-day trip will take delegation members to Shenzhen, Wuhan and Beijing, where they will meet with government officials and have a face-to-face talk.
Delegation members, aged from 18 to 35, have occupations ranging from students to teachers, entrepreneurs and lawmakers.
Chen Dong, deputy director of the Liaison Office of the Central People's Government in the Hong Kong Special Administrative Region, said at the ceremony he hoped participants will get hands-on experience about the country's achievements during the past 40 years and seek opportunities for themselves and for Hong Kong in the new era.
Chen encouraged the visitors to share their experiences with their family and friends back home so they may inspire more Hong Kong residents to visit the Chinese mainland.
Calvin Lau Kai-hong, director of a design company, said he's most excited about meeting with central government officials. He hoped voices in Hong Kong could be heard to help develop the city with more central government support.
Bonnie Pun Yin, a sophomore at City University of Hong Kong majoring in biomedical science, said she wanted to learn about the country's innovation and technology sector to better serve Hong Kong.
She's also excited about her first ride on a high-speed train. "I want to personally check out if it is as safe, fast and steady as it was described by the media."