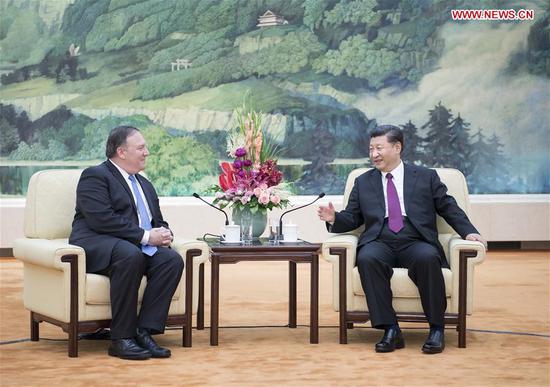 Chinese President Xi Jinping meets with U.S. Secretary of State Mike Pompeo at the Great Hall of the People in Beijing, capital of China, June 14, 2018. (Xinhua/Li Tao)
Chinese President Xi Jinping on Thursday met with U.S Secretary of State Mike Pompeo at the Great Hall of the People in Beijing.
Preident Xi said their two countries have extensive common interests and shoulder important responsibilities in safeguarding world peace and stability and promoting global development and prosperity.
He emphasized on the importance of correctly viewing each other's strategic intentions, as well as to respecting and taking care of each other's core interests and major concerns.
He urged the two countries to strengthen high-level exchanges and institutional dialogues while expanding cooperation in various fields including local and cultural exchanges as well as constantly consolidating the foundation of bilateral relations.
The Chinese President hoped that the United States will carefully and properly handle such sensitive issues as Taiwan and trade frictions to prevent the relations from being greatly disturbed.
His remarks were echoed by Pompeo who said his country attached importance to its relationship with China. He added that the U.S. appreciates China's important role in the political settlement of the Korean Peninsula nuclear issue and is willing to work with China to promote the denuclearization and lasting peace on the Korean Peninsula.
President Xi called the meeting between President Trump and DPRK leader Kim Jung Un an important step in the political settlement of the nuclear issue on the Korean peninsula insisting that it had achieved positive results.
He said China is willing to continue to play an active and constructive role, and work with all parties concerned, including the United States, to advance the political settlement of the peninsula issue.
Source(s): Xinhua News Agency