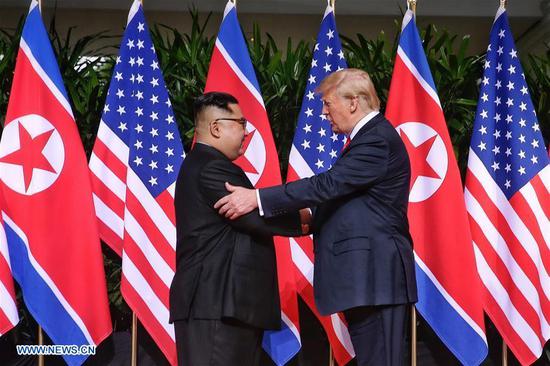 Top leader of the Democratic People's Republic of Korea (DPRK) Kim Jong Un (L) shakes hands with U.S. President Donald Trump in Singapore before the first-ever DPRK-U.S. summit, on June 12, 2018. (Xinhua/The Straits Times)
Top leader of the Democratic People's Republic of Korea (DPRK) Kim Jong Un and U.S. President Donald Trump gathered here Tuesday for a historic meeting widely expected to open a new chapter in their countries' relations.
They shook hands and held a 40-minute one-on-one meeting at the Capella Hotel on Singapore's resort island of Sentosa, before proceeding to an expanded meeting and a working lunch with their aides.
The larger meeting was attended by three major security and diplomatic aides to Kim and Trump, respectively.
On the DPRK side, Kim Yong Chol and Ri Su Yong, two vice chairmen of the Workers' Party of Korea (WPK) Central Committee, and Foreign Minister Ri Yong Ho were present.
Accompanying Trump were White House Chief of Staff John Kelly, National Security Advisor John Bolton and Secretary of State Mike Pompeo.
The expanded meeting came after the one-on-one session between Kim and Trump, which the U.S. leader described as "very, very good." During the face-to-face talks, Trump said he had an "excellent relationship" with Kim.
Kim and Trump started their first summit with a historic handshake that lasted for a few seconds before a row of national flags of the two countries.
"This is just a new beginning," said Trump while shaking hands with Kim.
Kim, dressed in a dark suit, and Trump, sporting a red tie, talked at a corner in the hotel corridor for a few minutes, before they walked along the passage into the meeting room and sat down in front of journalists.
"The way coming here was not easy," said Kim.
The DPRK leader said he and Trump came here after overcoming "all the obstacles" such as old prejudice and practices that had stood in their way forward.
Predicting a tremendous success of the summit with the DPRK leader, Trump said that it was "an honor" to meet face-to-face with Kim and that he would have "a terrific relationship" with the DPRK leader.
After shaking hands again with Kim in front of cameras, Trump gave a thumbs-up before starting the first meeting between an incumbent U.S. president and a DPRK leader.
Since taking over his country's leadership in late 2011, Kim had made only three known trips to foreign countries before the Singapore visit. He traveled to China twice and to the South Korean side of the truce village of Panmunjom.