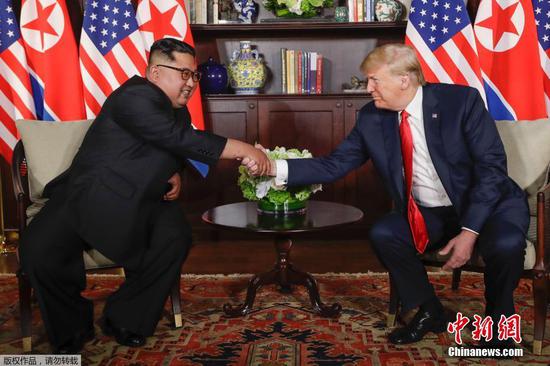 Top leader of the Democratic People's Republic of Korea (DPRK) Kim Jong Un (L) and U.S. President Donald Trump share a historic handshake Tuesday morning in Singapore. (Photo/Agencies)
A landmark summit between leaders of the Democratic People's Republic of Korea (DPRK) and the United States took place here Tuesday, igniting hopes for a political solution to the Korean Peninsula nuclear issue and lasting peace in the region.
No one, however, would expect the half-day summit to be able to iron out all differences and remove deep-seated mistrust between the two long-time foes.
To ensure that the positive momentum begets desirable outcomes, it is imperative for all stakeholders to continue working toward a common objective.
The road toward the goal of a nuclear-free peninsula and realizing regional peace and prosperity is bound to be a bumpy one that requires patience and wisdom. The first step is always the hardest to take.
As Pyongyang and Washington, the two parties at the crux of the peninsula issue, have made bold decisions to hold a summit, it is important that talks keep going and that relevant parties contribute to the negotiating process.
The Singapore summit marks the first time in history that a sitting U.S. president meet with the top leader of the DPRK. In that respect, the summit itself carries historical significance, and is expected to chart a course of denuclearization and herald a new chapter toward peace and prosperity on the peninsula.
The DPRK has recently made several goodwill gestures that evinced its strong desire to achieve a denuclearized peninsula and to focus on economic development.
Pyongyang honored its promise in late May by dismantling the Punggye-ri underground nuclear test site, where it conducted all its past six nuclear tests. Reporters from China, Russia, the United States, South Korea and Britain were invited to witness the closure.
Earlier in the same month, U.S. President Donald Trump thanked DPRK leader Kim Jong Un for releasing three detained Americans and also expressed his wish to make the summit "a very special moment for world peace."
Disagreements will not disappear all at once but are by no means unbridgeable. The two countries should address each other's reasonable concerns, manage and reduce their differences, and take more actions to enhance dialogue and foster mutual trust.
In that process, China will continue to contribute its efforts and play a constructive role in pushing for a peaceful solution of the peninsula nuclear issue.
A pressing issue to be addressed at the moment is to translate the current hard-earned detente into a long-lasting peace on the Korean Peninsula by properly accommodating concerns of all parties.
To that end, the "dual-track" approach advocated by China, which seeks denuclearization alongside establishing a peace regime on the peninsula, has proven to be a practical and reasonable solution.