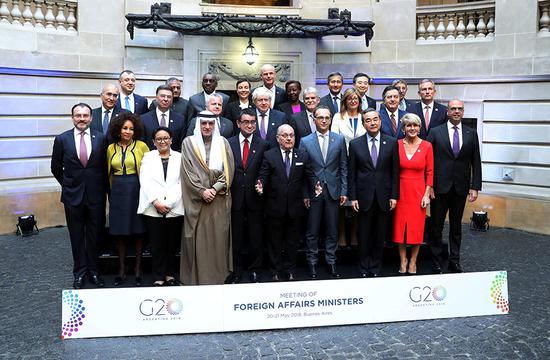 State Councilor and Foreign Minister Wang Yi, left of Australia's Julie Bishop, attends the G20 Meeting of Foreign Affairs Ministers in Buenos Aires, Argentina, on Monday with other foreign ministers. He called for boosting multilateralism and the G20's role in global governance in a speech.(Photo/Xinhua)
State Councilor and Foreign Minister Wang Yi emphasized on Monday the importance of upholding multilateralism amid rising anti-globalization sentiment and protectionism, and he called for a bigger role for the G20 in global governance.
Wang made the remarks in a speech at the G20 Meeting of Foreign Affairs Ministers on Monday in Buenos Aires, Argentina.
History has shown that nobody can solve every problem by himself, Wang said. Pursuing protectionism is not only shutting the door to others, but also barricading one's own road, he added.
The G20 summit, initiated as a platform of global economic governance 10 years ago, has exercised the spirit of partnership and contributed to global economic recovery and growth through policy coordination and cooperation, he said.
The G20 is the reflection of multilateralism in the new era as well as the progress of global governance reform, Wang said. He called for a greater role for the group in pushing economic globalization in the right direction.
China will always be a builder of world peace and a contributor to global development, as well as a defender of the international order, he added.
Wang also said in a separate speech that the G20 is responsible for providing more opportunities and support to developing countries by promoting global growth.
The mechanism should take into consideration the concerns of developing countries when promoting global cooperation in areas such as the economy, finance, trade, energy and employment, he said.
Unfilled needs in infrastructure investment in emerging markets and developing countries every year amount to $1 trillion to $1.5 trillion, Wang said.
China expects to enhance cooperation with the G20 in helping interconnect the infrastructure in these countries through the Belt and Road Initiative, he added.
Chen Fengying, a senior world economy researcher at the China Institutes of Contemporary International Relations, said China is calling for multilateralism because it can provide maximum benefits to all countries.
"This is especially important when the world is facing the challenges of unilateralism and protectionism pursued by certain countries," she said.
Wang's remarks show China's firm support for multilateralism and willingness to conduct cooperation with other countries through multilateral means, Chen said.
Support from multilateral mechanisms such as the G20 is crucial to emerging markets that are going through financial difficulties, like Argentina, she added.