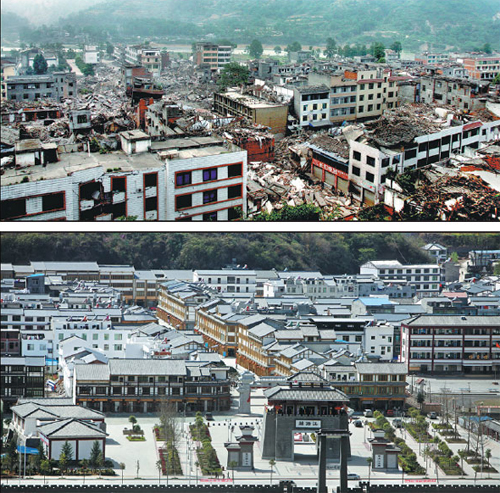 Above: Nanba town in Mianyang on May 16, 2008, after it was destroyed by the Wenchuan earthquake. Below: How the town looks now after being reconstructed. (XIANG YUANMU/FOR CHINA DAILY)
Hebei native smitten by survivors' resiliency moves to Mianyang
Qi Jianfeng never imagined a disaster far from home could have such a major impact on his life.
Ten years ago, Qi went to a small town in Sichuan province - about 1,000 kilometers from his home in Shahe, Hebei province - as a volunteer to help locals rebuild after a devastating earthquake.
Nanba town in Mianyang was one of the areas hardest hit by the magnitude 8 quake that shook Wenchuan county on May 12, 2008. The town was about 180 km from the epicenter.
The temblor left more than 1,300 residents of the town dead and over 14,800 injured, and most of the buildings were flattened, Qi said.
"After seeing on TV the horrible scenes caused by the quake, I felt restless and yearned to go there to help," said Qi, who at the time was a 24-year-old student at Hebei University and about a month away from graduation.
"As a young man, I wanted to do anything I could to help the people who had lost their families or homes."
Qi enrolled in a volunteer group organized by the Central Committee of the Communist Youth League of China as soon as he heard it was recruiting from universities nationwide to participate in disaster relief efforts.