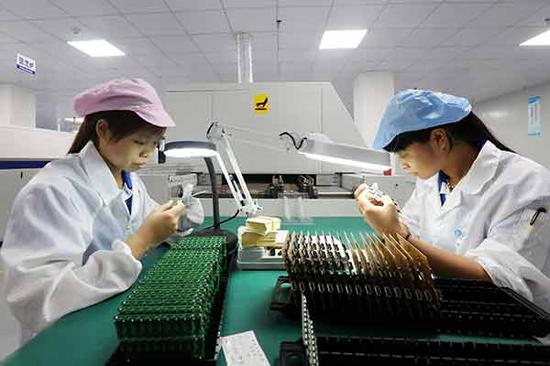 Technicians check chips at a technology company in Guigang, the Guangxi Zhuang autonomous region. (Photo by Tan Kaixing/for China Daily)
At least 46 big-budget semiconductor projects are scheduled to be built in China within two to three years, as part of the nation's broader push to reduce reliance on foreign chip manufacturing and design techniques, according to data compiled from local governments' key 2018 project plans.
The move comes as China is expediting its research and development of core chip technologies, narrowing the gap between its integrated circuit industry and those of the world's leading nations in this field.
To realize the goal, a number of provinces and municipalities are seeking to attract semiconductor companies to build factories and R&D centers.
In Guangdong province, two semiconductor projects are under construction and will be completed by 2020, with a combined investment of 18.6 billion yuan ($2.92 billion). Another two projects are scheduled to break ground this year, with their total investment reaching 4.6 billion yuan, according to the province's 2018 key project plans.
Meanwhile, 15 chip-related projects are either under construction or will be built in Jiangsu province, including plants that make chips for cameras and automobiles, as well as factories producing semiconductor equipment.
Companies such as Tsinghu Unigroup and SK Hynix are participating in these projects.
In Anhui province, two semiconductor projects will be constructed, with combined investment of 3 billion yuan, according to the province's key project plans for this year.
The intensified push comes as China attaches growing importance to chips-which lie inside a wide range of products and power mobile phones, computers, automobiles and other equipment. In recent years, China has spent more than $200 billion on imported chips annually, more than it spends on crude oil imports.
The Ministry of Industry and Information Technology said it would ramp up resources to help build a string of semiconductor innovation platforms that can integrate talents and capital to speed up development.
Also, a national innovation center for smart sensors will be built to overcome crucial technological bottlenecks, the electronics information department of the ministry said in its 2018 working plan.
Li Guojie, an academician of the Chinese Academy of Engineering, said the research and development of chips mirrors China's overall technological level.
"Though it will take time for us to catch up with leading foreign countries, consistent input of resources and R&D will help accelerate the process."