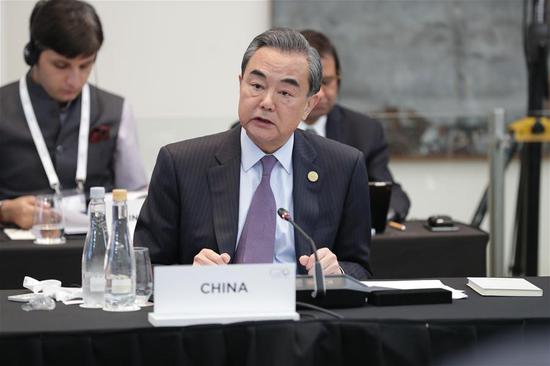 Chinese State Councilor and Foreign Minister Wang Yi addresses the G20 foreign ministers' meeting in Buenos Aires, Argentina, May 21, 2018. (Xinhua/Martin Zabala)
Upholding multilateralism, improving global governance and creating a community of shared interests are in line with the trend of the times and the common interests of all nations, Chinese State Councilor and Foreign Minister Wang Yi said in Buenos Aires Monday.
Wang made the remarks while addressing the 2018 G20 Meeting of Foreign Affairs Ministers scheduled for Sunday through Monday.
Welcoming the creation and development of the G20 as a new manifestation of multilateralism and an important advancement in the reform of global governance, Wang said that discussing issues concerning multilateralism and global governance is of great importance at a time when the G20 summit enters its 10th year.
Against the current backdrop of rising unilateralism and protectionism, Wang called on fellow G20 members to create a new model of international relations aimed at win-win cooperation, resolving disagreements through consultation on an equal footing and on the basis of international law and international regulations.
The G20 members, Wang added, should jointly build a community of shared future for mankind, and improve the global governance system under the guidance of reform.
China fully supports Argentina in hosting a successful summit, sending a clear message on safeguarding multilateralism, putting the world economy on the right development path, and helping the G20 achieve progress in boosting the growth of the world economy as well as enhancing global economic governance, he said.
Wang said that a lot of problems facing the world today are essentially related to development, and that the G20 summit, as a major forum for international economic cooperation, is responsible for creating more opportunities and support for developing countries by promoting global growth.
He called for giving priority to development issues in global macro-policy coordination, saying the international community should always take into consideration developing countries' concerns and guarantee their interests.
Urging the implementation of the United Nations' development agenda, Wang said developing countries should be allowed sufficient policy space in a bid to develop their economies.
The G20 members ought to grasp the newly emerging opportunities for development and provide fresh impetus for developing countries in poverty alleviation as well as economic development.
This year marks the 40th anniversary of China's reform and opening-up. Wang said China has lifted 700 million people out of poverty over the past four decades, making a great contribution to global development.
"We stick to reform, expand opening up, implement the people-centered development ideas, and always remain a builder of world peace, a contributor to global development, as well as a defender of international order," Wang said.
He said that China, while realizing its own development, will strive to make greater contributions to the common development of humanity.
The 2018 G20 Summit is scheduled for November in Buenos Aires, and the ongoing foreign ministers' meeting is held in preparation for the summit.