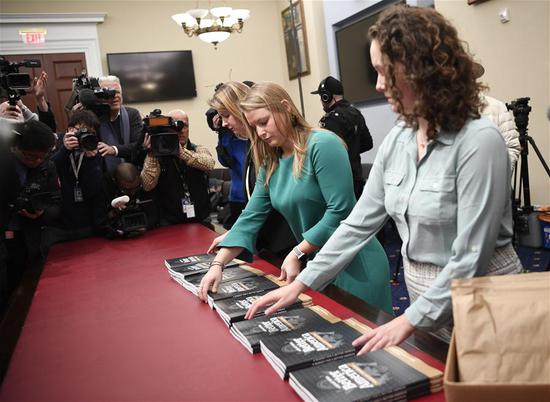 Workers prepare the copies of Volume 1 of U.S. President Donald Trump's budget for Fiscal Year 2020 on Capitol Hill in Washington D.C., the United States, on March 11, 2019. U.S. President Donald Trump presented to Congress on Monday a budget proposal for fiscal year 2020 that contained stiff spending cuts across non-defense federal agencies, and a hike in defense money. (Xinhua/Liu Jie)
U.S. President Donald Trump presented to Congress on Monday a budget proposal for fiscal year 2020 that contained stiff spending cuts across non-defense federal agencies and a hike in defense money.
NON-DEFENSE DOMESTIC SPENDING CUTS
According to the 4.7-trillion-U.S.-dollar budget proposal, the Trump administration plans to cut non-defense domestic spending by 5 percent over the next year, or a nearly 30-billion-dollar reduction, involving programs on education, health care and environment protection, among others.
The budget blueprint, designed for fiscal year 2020 that starts on Oct. 1, proposes 2.7-trillion-dollar spending cuts over the next decade, including 1.9 trillion dollars in cuts to mandatory programs, a senior administration official told a briefing Monday.
The official said the budget "will have more reductions in spending than any president in history has ever proposed."
The budget plan foresees a 1.1-trillion-dollar deficit in 2019, 2020 and 2021, and a 1-trillion-dollar deficit in 2022. The administration predicts that the United States will return to budget balance in 2034.
Larry Kudlow, director of the National Economic Council and the top economic advisor to Trump, said Sunday that the president's budget "points a steady glide path" toward lower spending and borrowing as a share of the nation's economy.
"If you want to deal with budget deficits, you've got rapid growth which means keep the tax cuts in place," Kudlow said in an appearance on "Fox News Sunday." "We believe the 3 percent growth rate of 2018 will continue in 2019 and beyond 2020 and so forth."
Asked by host Chris Wallace why he seemed to no longer care about deficit and debt as much as he did during the Ronald Regan era, Kudlow replied, "I don't think good growth policies have to obsess necessarily about the budget deficits and so forth."
He said he expected the country's deficit to be around 4.5 to 5 percent of the gross domestic product. "That's a very modest number compared to even the recent past."
In addition, the U.S. national debt has exceeded 22 trillion dollars, according to the budget document, which said "Washington must fix its longtime spending problem."
The White House projected that the government will pay 482 billion dollars on interest payments for the debt next year. "If nothing is done, interest payments alone on the Federal Government's debt will double by 2023 and exceed spending on the U.S. military by 2024," the budget document asserted.
HIKE IN DEFENSE SPENDING
The budget roadmap would increase defense spending by nearly 5 percent to 750 billion dollars from 716 billion dollars in fiscal year 2019.
It also seeks 8.6 billion dollars for constructing additional sections of a wall along the U.S. border with Mexico -- 5 billion dollars in funding for the Department of Homeland Security and 3.6 billion dollars for the Department of Defense's military construction funds.
The administration official said the White House believes it is important to engage the appropriators in the national defense authorization process in a transparent manner, and "to be able to transparently put forward money that we would anticipate being drawn down from military construction accounts."
Congressional Democratic leaders on Sunday blasted Trump's request for additional wall-funding money, warning the president against setting up another spending fight following the one that resulted in a five-week partial government shutdown.
"Congress refused to fund his wall and he was forced to admit defeat and reopen the government," House Speaker Nancy Pelosi and Senate Minority Leader Chuck Schumer said in a joint statement. "The same thing will repeat itself if he tries this again. We hope he learned his lesson."
Asked whether there will be another budget fight over the wall, Kudlow said on the Fox program "I suppose there will be."
"I would just say that the whole issue of the wall and border security is of paramount importance," he said, adding that the United States should be "much tougher" and "have more constructive immigration policy," and that Trump is "going to stay with this wall."
OTHER HIGHLIGHTS
The budget proposal seeks to make the Republican tax cuts permanent. "We will extend the tax cut and make it permanent," the administration official said during Monday's briefing.
"We will want to give families and businesses certainty to be able to keep more of their hard-earned money and invest in their communities and businesses," he added.
The Trump administration's 2017 corporate tax cuts have been blamed for expanding the budget deficit, and the measure's effect on economic growth is waning.
The Center on Budget and Policy Priorities, a Washington-based think tank, criticized the tax cut extension. "Despite bemoaning deficits, it calls for making the costly 2017 tax cuts -- which largely benefit those who already have high incomes and wealth -- permanent," it said in response to the budget plan.
With respect to infrastructure, the proposed budget contains a 200-billion-dollar request which, according to the official, will fund not only surface transportation, but also broadband.
Although the White House and congressional Democrats have consensus on infrastructure improvement, they differ on where to generate the much-needed money. Trump's 10-year, 1.5-trillion-dollar infrastructure bill that the White House released in February 2018 ended up stranded in the legislative process.
"We really want Congress to come to the table," the administration official said, adding that the administration is open to discussions with Congress in terms of the specific design of the program, so as to ensure that "it's for a broad use of infrastructure needs across the country."
The budget also requests 6.1 billion dollars for the Environmental Protection Agency, down by 2.8 billion dollars, or 31 percent, from the estimate for fiscal year 2019. The administration official said that "6 billion dollars at a time of 1-trillion-dollar deficit is something that is affordable for the country."
In the meantime, the Trump administration will provide a federal tax credit of up to 50 billion dollars over 10 years for donations to scholarship programs for elementary and secondary school students seeking state-level public or private education. It is part of the "school choice initiative."
The budget proposes a welfare reform setting more stringent work requirements for working-age individuals receiving welfare assistance such as supplemental nutrition, federal housing support and Medicaid, a move the administration said would save 327 billion dollars.