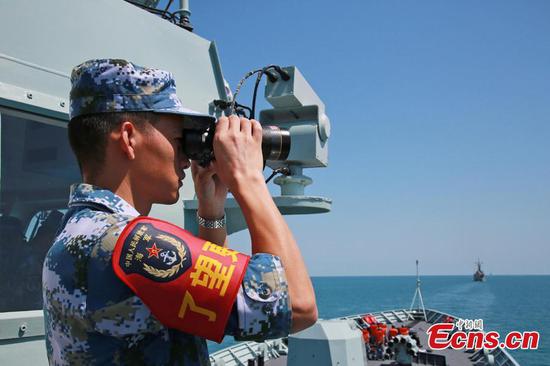 A Chinese soldier watches through a telescope onboard Chinese frigate Huangshan during Exercise KAKADU 2018 at sea off the coast of Darwin, Australia, Sept. 6, 2018. (Photo: China News Service/Xu Guang)
China is participating in Australia's largest maritime exercise for the first time as more than 3,000 personnel from 27 countries engage in joint training off the northern port of Darwin, China's official military newspaper reported on Friday.
Exercise "Kakadu" is hosting 23 ships and submarines from across the Indo-Pacific region, enabling them to establish familiarity which helps to prevent conflict on the high seas and to coordinate disaster relief efforts.
Two Australian navy sailors boarded onto China's naval frigate Huangshan during the drill, Australia's commander Anita Sellick of the Australian frigate HMAS Newcastle said.
Commander of Huangshan Fleet Ding Xinmin told reporters such exercises effectively improved understanding and trust. 
The joint military practice will continue until September 15. 
The participating countries in Exercise "Kakadu" include: China, Japan, the Republic of Korea, Thailand, Indonesia, Bangladesh, Brunei, Cambodia, Canada, Chile, Cook Islands, Fiji, France, India, Malaysia, New Zealand, Pakistan, Papua New Guinea, the Philippines, Singapore, Sri Lanka, East Timor, Tonga, the United Arab Emirates, US, Australia and Vietnam.