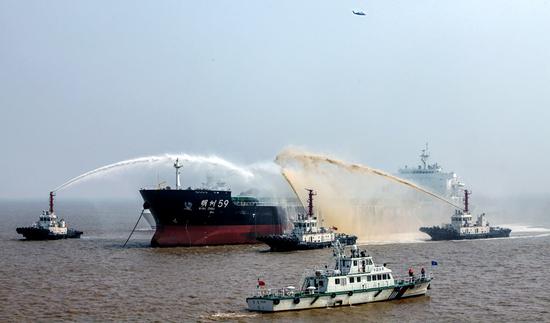 Rescue ships spray an oil tanker with fire-extinguishing chemicals to battle a simulated fire during a drill off Zhoushan, Zhejiang province, on Tuesday. (Photo by Hua Zhibo/for China Daily)
China conducted an oil slick cleanup drill in the East China Sea on Tuesday to improve the country's emergency response ability.
Thirty-six vessels, two helicopters, two drones and more than 500 personnel took part in the drill, which featured 22 scenarios stemming from a collision between two ships.
It was the first drill involving collaboration by national, provincial and city authorities since China released its National Major Ocean Oil Slick Emergency Response Plan in March.
In accordance with the plan, and the lessons learned from dealing with January's sinking of the oil tanker Sanchi, the drill simulated the handling of a maritime oil leak and showed China's strength in responding to maritime emergencies, said Zhuo Li, deputy director of the Ministry of Transport's China Maritime Search and Rescue Center.
The drill, in the sea off eastern China's Zhejiang province, was based on a collision between an oil tanker carrying 200,000 metric tons of crude oil and a container vessel, with the oil tanker catching fire and exploding. A total of 19 crew members were said to be at risk, with more than 1,000 tons of crude oil leaking into the ocean. Because of mechanical problems, the oil tanker drifted to a nearby oil drilling platform and threatened to cause a secondary accident. The container vessel was slightly impaired and the crew members were safe.
Co-hosted by the Ministry of Transport, Zhejiang's provincial government and the Zhoushan city government, the drill tested the plan and emergency response procedures.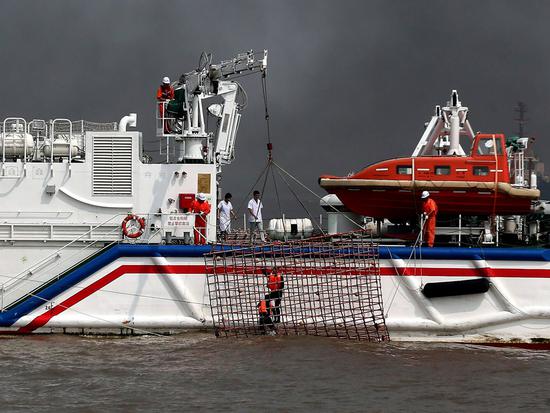 Drowning sailors are saved by a rescue ship during the oil slick emergency response drill. (Photo by Shen Lei/For China Daily)
"With economic globalization, maritime vessels have become larger and faster," ministry spokesman Wu Chungeng said. "More hazardous cargo is transported by sea, including crude oil and gas, which increases the risk of a major oil slick."
On Jan 6, the Panama-registered, Iranian-owned oil tanker Sanchi, carrying 111,300 tons of highly flammable condensate oil, collided with the CR Crystal, a Hong Kong-registered cargo ship, in the East China Sea about 296 kilometers east of Shanghai. The tanker exploded and sank on Jan 14, killing 32 crew members. The cargo ship's 21 crew members were rescued. The sinking of the oil tanker caused an oil slick, with cleanup work carried out to reduce the environmental impact.
China's maritime search and rescue system involves inter-ministry conferences in the event of a search and rescue or oil leak emergency, with the response on the water mainly dependent on professional search and rescue teams, government personnel and the military, He Jianzhong, director of the China Maritime Search and Rescue Center, said in March.
China carried out 2,063 maritime search and rescue operations last year, he said, rescuing 1,462 vessels and 15,046 people in distress.
Cheng Ping, director of transportation safety at the ministry, said China's professional search and rescue teams have rescued 75,543 people and 5,108 distressed vessels in the past 67 years.