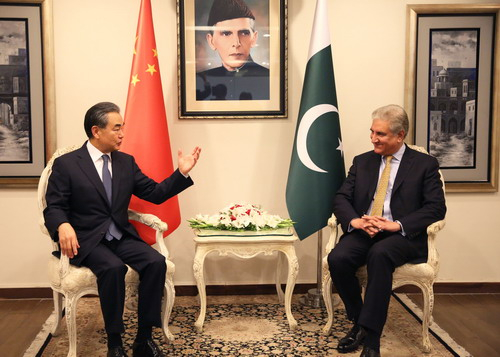 Chinese State Councilor and Foreign Minister Wang Yi holds talks with his Pakistani counterpart Shah Mahmood Qureshi in Islamabad, Pakistan, Sept. 8, 2018. (Photo /Chinese Foreign Ministry Photo)
China believes that the new Pakistani government will lead its people to overcome difficulties and move toward the goal of building a new Pakistan under the leadership of Prime Minister Imran Khan, Chinese State Councilor and Foreign Minister Wang Yi said on Saturday.
Wang said China as a good friend, good partner and good neighbor will resolutely stand with Pakistan during this new historic progress.
He made the comments during the meeting with his Pakistani counterpart Makhdoom Shah Mahmood Qureshi in Islamabad.
Wang is on a three-day official visit from September 7 to 9 to Pakistan, which marks the first high-level Chinese delegation to the country since its new government took office last month.
All-weather partnership to be maintained
The Chinese state councilor said the all-weather strategic cooperative partnership between the two countries is one based on long-term mutual understanding, mutual support and mutual trust.
He added that the friendship between the two countries has endured changes in the international arena and those of the times, remaining deeply rooted among the Chinese and Pakistani people and is unshakable.
Wang promised that China will continue to hold Pakistan as a priority in its foreign policy and neighborhood diplomacy.
China will provide all-out help to Pakistan with its new development goals, consolidate strategic trust and coordination, better improve the construction of the China-Pakistan Economic Corridor (CPEC), move forward the all-weather strategic cooperative partnership between the two countries to a new level, and create a closer community with shared future with Pakistan.
Qureshi said Pakistan and China are most reliable and closest friends, stressing that the two countries are best friends that won't be affected by the change of governments.
The Pakistani foreign minister vowed to view the ties with China as the foundation of his country's foreign policy.
The new Pakistani government is willing to learn from China on issues like economic development, poverty alleviation and anti-corruption, Qureshi said.
The construction of the CPEC will remain a top priority, he added.
The ten-point consensus
Speaking at a joint press conference with Qureshi which was held after the bilateral meeting with him, Wang briefed the media on the ten-point consensus reached between the two. According to Wang, they agreed that China and Pakistan should:
First, deepen strategic mutual trust and strengthen strategic communication;
Second, better move forward the construction of the CPEC;
Third, achieve a more balanced bilateral trade development;
Fourth, engage with each other in industrial capacity cooperation;
Fifth, enhance cooperation with a focus on people's livelihood;
Sixth, reinforce defense and security cooperation;
Seventh, strengthen exchanges on the experience of governance;
Eighth, expand people-to-people exchanges;
Ninth, further cooperate in international and regional affairs;
Tenth, push for the China-Pakistan all-weather strategic cooperative partnership to reach a new height, create a closer community between China and Pakistan with shared future, in order to contribute to the creation of a community with shared future for mankind.
Wang said China welcomes Prime Minister Imran Khan to attend the first China International Import Expo and pay an official visit to China in November.
The CPEC explained
Also at the joint press conference, Wang said CPEC is an important economic cooperation project implemented on the demand of the Pakistani side.
Within the framework of CPEC, there are currently 22 cooperation projects, of which nine have been completed and 13 are under construction, Wang said.
With a total investment of 19 billion US dollars, the CPEC projects have driven Pakistan's economic growth by increasing 1 to 2 percentage points per year and have created 70,000 new jobs in the country, he noted.
Wang also clarified that among the 22 projects within the framework of CPEC, 18 of them are directly invested or offered aid by the Chinese side, and only four of them use China's concessional loan.
Therefore, it's clear that CPEC projects didn't increase Pakistan's debt burden. On the contrary, these projects will release their economic benefits and bring remarkable economic returns to the Pakistani side, Wang said.