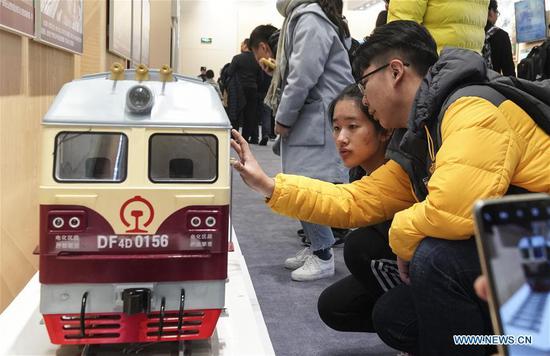 Visitors look at the model of locomotive during a major exhibition to commemorate the 40th anniversary of China's reform and opening-up at the National Museum of China in Beijing, capital of China, Nov. 24, 2018. (Xinhua/Yin Gang)
Special: 40YearsOfReform
Seeing her photo at an ongoing exhibition at the National Museum of China, Zhang Huamei could not withhold her excitement and the memory it brought her.
In 1980, the 19-year-old Zhang became the first registered private business owner after China's adoption of reform and opening-up policies. Little did she know that the license paper would be kept as a historical relic.
Her license is one of the hundreds of exhibits telling graphic stories about how China developed from a rigid, backward economy into a dynamic powerhouse over the past 40 years.
The hand-written permit is seen as a symbol of the subsequent rise of China's private businesses and its economy.
In eight years, another 14.5 million small businesses like Zhang's were approved. They have now developed into a non-public sector that accounts for 80 percent of urban employment, 70 percent of technological innovations, 60 percent of economic output and 50 percent of tax revenue in China. In 2018, 28 private companies have made their way into the Fortune 500 list.
Private businesses have been steadily expanding in China. From January to September, some 4.694 million new private firms registered with the market regulation authorities. That means each day, China sees the springing up of more than 17,200 private firms.
"The reform and opening-up has given me the courage and opportunities to succeed," said Zhang, who now runs a multi-million yuan business selling garment accessories like buttons and zippers in Wenzhou, east China's Zhejiang Province.
Some 300,000 visitors have toured the grand exhibition, deeply impressed by the juxtapositions of the past and present. Crowds were attracted by the symbols like Zhang's license, symbolizing the many firsts in China's economy since 1949. Other exhibits include the first stock certificate in 1984, the first patent letter in 1985, and a hammer used in the first land auction in 1987, all of which are a testament to how reform and opening-up ushered in China's miraculous development.
For many of the visitors, the ration coupons for grain, meat, and cloth from the 1960s are the most memory-evoking items.
Back then, consumers needed coupons to buy daily necessities which were in short supply. From 2.5 kg to 25 grams, the grain coupons on display are classified by their face value.
A museum narrator pointed at a 25-gram coupon issued in Shanghai and said it would have allowed its owner to enjoy the luxury of a small dessert.
Exhibits not far away from the coupons show that China's grain output in 2017 doubled from 1978, with the supplies for the market greatly enriched and spending power significantly elevated thanks to the reform and opening-up.
During the spending binge on Singles' Day, which takes place on Nov. 11 each year, China's online retail sales exceeded 300 billion yuan (about 43 billion U.S. dollars) this year, up about 27 percent and reaching a record high.
"Black Friday is a rounding error compared to Singles Day in China," said a story posted on Forbes website.