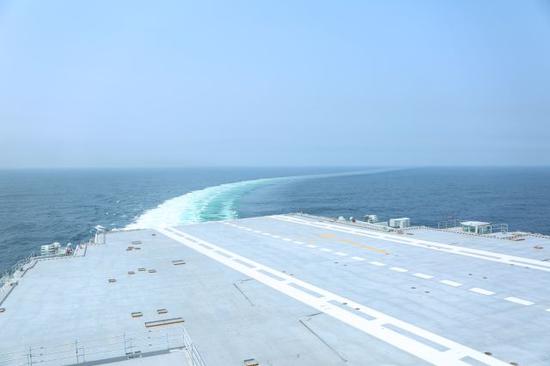 China's first domestically designed aircraft carrier set out on its debut sea trial on May 13, 2018. (Photo/Xinhua)
China has launched work on building its third aircraft carrier, Xinhua News Agency reported on Sunday.
In an article published on its WeChat account, Xinhua said that as the nation's second, and the first domestically designed, carrier has undergone sea trials, a "new-generation carrier" is being constructed at the shipyard as per schedule.
The article, which was intended to mark the sixth anniversary of the first takeoff and landing by a Chinese fighter on the country's first carrier CNS Liaoning, does not elaborate on the program of the "new-generation carrier", which is believed to be the country's third carrier. But the article is the first official confirmation.
Chinese weapons enthusiasts and foreign observers have long asserted that China has begun to build its third carrier at China State Shipbuilding Corp's Jiangnan Shipyard Group in Shanghai, speculating that it will be bigger and mightier than the Liaoning and the second carrier, which is yet to be named.
A publicity officer at China State Shipbuilding Corp's headquarters in Beijing refused to comment on the matter.
Publicity officers of the People's Liberation Army Navy could not be reached on Monday morning.