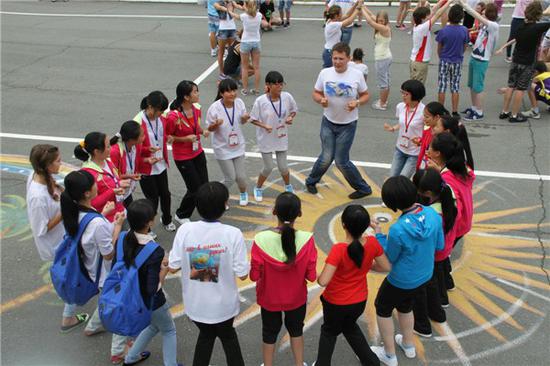 Chinese teenagers from Ya'an city in Southwest China's Sichuan province, which was hit by a large earthquake, join outdoor activities at the "Ocean" All-Russia Children's Center at Vladivostok, Russia, on July 29, 2013. The center welcomed 260 Chinese students affected in the 7.0-magnitute earthquake to help in their recuperation. (Photo/Xinhua)
From a cheerful girl, Yin Hongyan became morose and depressed almost overnight after Qingchuan, a county in southwest China where she lived, was caught up in a massive earthquake in 2008.
Nearly 70,000 people died and about 18,000 others went missing. Yin's beloved grandmother was among the victims.
She thought she would never smile again. Then the invitation arrived.
During an official visit to Russia in March 2013, Chinese President Xi Jinping recounted the heartwarming story at the Moscow State Institute of International Relations.
After the devastating earthquake, Russia raced against time to extend a helping hand, he said. Then Russian President Dmitry Medvedev invited 1,500 children from the disaster-hit areas to rehabilitate in Russia.
A HEALING TOUCH
Yin was among the group of shocked survivors who were taken to the Ocean All-Russia Children's Care Center in Vladivostok to help them get over their grief and trauma. She recounted how she was given special attention by the teachers at the center, who took walks with her every day and told her inspiring stories, helping her to get back on an even keel.
She was finally able to accept her grandmother's death. "Farewell, grandma, I am smiling again," she wrote in her diary.
Like Yin, Xi Junfei spent three life-changing weeks at the center overlooking the violet sea beyond Amur Bay.
When he arrived, he was tired and devastated. The welcoming Russian teachers and students, greeting them in Chinese, helped him and other survivors feel at home.
The staff prepared spicy noodles, the food the children ate at home, to make them acclimatize. The location also helped. They woke up to the sound of waves, which had a soothing effect, and were encouraged to swim and skate.
"Our plan was to help them leave behind the memories of the tragedy," said a teacher working at the center, who gave her name only as Courova.
Xue Xue, who was 13 then, said she still has the photo frame she made at a craft class at the center. "It felt good to be loved and taken care of," she said.
When it was time for them to return to China, almost every child had gained weight. They hugged their teachers and friends and promised to come back one day.
LIFE-CHANGING TRIP
Now the promise is going to come true as the center celebrates its 35th anniversary this year and the youngsters have been invited to the celebrations. Only, they are no longer youngsters but young men and women, whose paths in life have been influenced by those three weeks in Russia, where they were taught to face the future and its uncertainties with courage.
One of them, Xi Junfei, is studying at the Far Eastern Federal University in Russia. He said his love for Russia and his decision to study there stemmed from the rehabilitation at the center.
Xiao Yu, 24, now works with a newspaper in southwest China's Sichuan province. His career decision was influenced by his counselor, a Russian journalist who was volunteering at the center. "I want to become someone like my counselor," Xiao said. "Bringing to light stories of people helping others."
Cai Wenqing cannot wait to go back to her "Russian home." "I lived in Room 310," she said. Cai has begun frantically learning Russian since she got the invitation. "I want to thank my teachers in Russian," she said.
FRIENDS FOR GENERATIONS
Xi visited the center in 2010. "I saw with my own eyes ... the loving care the Russian teachers showed to our children," he said during his speech in Moscow in 2013. "As we Chinese often say, love knows no borders. The Chinese children have learned for themselves the love, friendship and kindness of the Russian people."
The center, which has received more Chinese children since 2008, has become a perfect example of the growing cultural and people-to-people bond between China and Russia.
Russia and China are like the bamboo and pine trees that grow together, former Russian Foreign Minister Igor Ivanov once said, urging the two countries to make sure the friendship passes on from generation to generation.
The interactions have continued through tourism, youth exchanges and local-level cooperation.
Back at the center, Courova and other teachers were busy decorating the classrooms with Chinese paper cuttings and calligraphy for the upcoming anniversary and reunion with their Chinese students.
"Have they changed? Grown taller?" an excited Courova asked, the same way a mother talks about her children who would be finally coming home after years of absence.