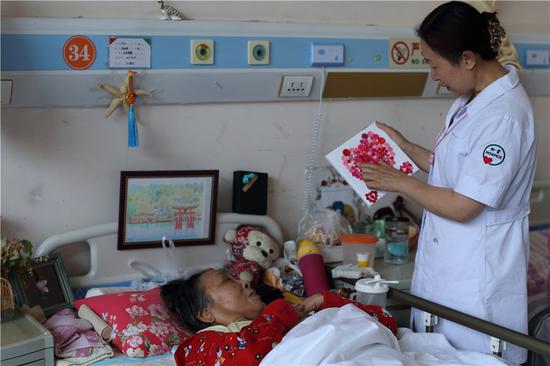 A member of staff at the Beijing Songtang Care Hospital, one of China's first end-of-life centers, chats with a patient. (Photo: China Daily/Wang Jing)
Cultural concerns and outdated health regulations are impeding the development of a national network of clinics. Yao Yuxin reports.
Most of the patients received by physician Qin Yuan, director of the hospice ward at Beijing Haidian Hospital, have an expected life span of two weeks or less.
With just six beds available for terminally ill patients, Qin has no option but to impose the time limit. "Some patients die while waiting for a bed," she said, leafing through the pages of a notebook filled with patients' names, phone numbers and details of their illnesses.
Despite the high demand for palliative care, there are only a few dedicated hospices in the country, and they are struggling to survive.
"That they do (survive) is a miracle," Qin said.
Having worked as a cancer specialist for more than 30 years, she has witnessed many terminally ill patients die in the hospital while attached to tubes and drips, even though there is no medical reason for them to suffer.
Unlike intensive treatment given to terminally ill patients in the hope of prolonging life, palliative care uses just enough medication to alleviate pain so people can die in a gentle, dignified way.
Death is still a taboo subject in China, though, so to avoid discussing the topic some families pay for expensive treatment until the patient dies, despite them having no chance of recovery, according to Qin.
Cultural concerns about death run deep in China. For instance, most people try to avoid living on the fourth floor of a building because "four" in Chinese has a similar pronunciation to "death".
People are always reluctant to discuss the subject.
For example, even as the condition of Zhao Zhe's 78-year-old stepfather deteriorated, the old man was unaware he had late-stage liver cancer until he accidentally read a WeChat message on his wife's phone.
"We were afraid depression would kill him first (if he learned about the diagnosis), but the disease killed him," Zhao said.