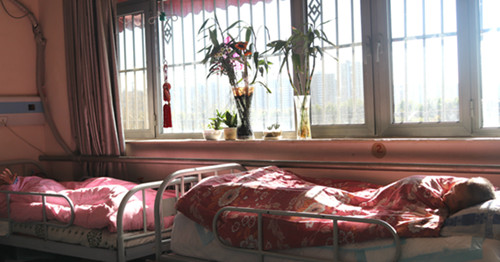 A hospice ward in Beijing Songtang Care Hospital (Photo/China.org.cn)
Since 1987 when Beijing Songtang Care Hospital, China's first hospice, was founded, hospice inpatient facilities have been established in many provinces of the country.
In 2013, the State Council issued the Suggestions on Promoting the Health Care Service Sector, stressing the development of such medical institutions. In addition, Beijing Municipal Commission of Health and Family Planning released a list of the first 15 pilot hospice inpatient facilities in March this year.
However, despite government efforts to ensure care for the terminally ill, some hurdles need to be cleared to achieve full-fledged development.
Insufficient beds in hospice inpatient facilities
No sooner had Room A08 at the Hospice Center of Peking University Shougang Hospital become available than an 89-year-old man with leukemia moved in.
"We have waited for over half a month, so we rushed to the hospital as soon as we got the news", said his daughter-in-law. The elderly man's disease is so serious now that chemotherapy has no effect anymore. The family thought the hospice center, which provides palliative care and attends to a patient's emotional needs, is a good place for him to spend his final days.
Statistics show there are a total of about 2,000 beds in Beijing's 30-plus hospice inpatient facilities, a number far from sufficient. According to an investigation starting from early October, no bed was accessible in a dozen hospices in Beijing and patients had to reserve them in advance.
However, many patients died while waiting for admission.
Blurry definition of hospice patients
While most hospice inpatient facilities are crowded, some of the beds there are not being used by those who really need them. For example, 70 percent of the elders staying in Songtang Care Hospital are not suffering from any serious disease. The main factor causing the low utilization is an unclear standard of hospice patients.
The hospice centers of some medical institutions, such as Beijing Fuxing Hospital, are exclusively for patients with late stage cancer, but many others have more inclusive standards.
The Hospice Center of Peking University Shougang Hospital, for example, receives patients with disability, cardiac failure and late-stage cancer. Beijing United Family Rehabilitation Hospital and Beijing Wanshoukang Hospital are open to anyone needing rehabilitation. Beijing Haidian Hospital will assess whether a patient is permitted to stay according to the medical records and family situation.
Lack of funding
Although the nearly 1,000 available beds are occupied, Beijing Songtang Care Hospital is struggling to get by, as the price of 6,000 yuan (about US$907) per month for a single-person room covers almost all the services such as treatment, nursing, etc.
The Hospice Center of Peking University Shougang Hospital has also been operating at a loss since its founding in March. "The center receives little income but bears the high costs of water, electricity, equipment and labor. We can charge many of the patients for room and board only, since they have stopped active treatment." said Wang Delin, director of the center.
Hu Lei, head nurse of the center, called for government subsidies and private charitable foundation to support the hospice care sector, declaring: "Apart from providing treatment nursing, we also attend to the patients' emotional and spiritual needs, but the latter service is free now. I don't think our compassion alone is able to maintain the sector's long-term development."
Hospice care facilities dedicated to charity and humanism are non-profit-making in any country, and herein lies the reason why government subsidies and private investment are needed, said Liu Tao, from the Beijing Living Will Association.