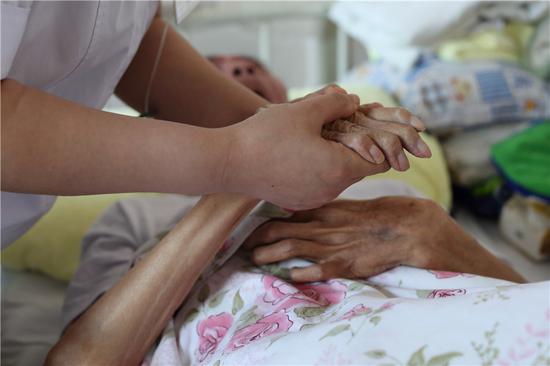 A staff member comforts a patient by holding his hands. (Photo: China Daily/Wang Jing)
Lack of access
In 2015, the Economist Intelligence Unit, an advisory and research company in Britain, ranked China 71 out of 80 countries for quality of death. It noted that less than 1 percent of the population has access to palliative care and most of the facilities are concentrated in major cities.
Authorities are aware that demand for palliative care is rising rapidly.
In March last year, 13 hospice pilot projects were established by the Beijing government in accordance with central government guidelines.
The yearlong pilot was intended to explore the introduction of widespread palliative care, "but no directions for follow-up programs have been set out so far," Qin said.
Both Qin and Li said it is essential that detailed standards for hospice care and financing are drawn up, because without government subsidies operating costs will become a major challenge for palliative care providers.
In China, health insurance is focused on curative treatment, so reimbursement is limited for patients reliant on palliative care.
Songtang does not qualify for the national medical insurance program.
That means patients have to pay the full cost of their stay, which ranges from 3,990 yuan to 7,470 yuan ($596 to $1,116) a month, depending on the number of patients in a ward, which is never more than eight.
To qualify for the insurance program, Li would have to upgrade the facility by purchasing expensive equipment.
"We can't afford it," he said. "Not to mention that it would be of no use at all."
Psychological counseling is also an important element of palliative care. It is provided free of charge at the hospice, but there isn't enough money to pay qualified professionals, so members of staff are trained to provide the service instead.
The nation's outdated health policies are impeding the development of hospice facilities, according to Li. "Strictly speaking, we have been an illegal operation for many years," he said.
Qin said her hospice ward received only half of the 125,000 yuan in subsidies that the Beijing government was supposed to provide last year. It also has to share a nursing team with the hospital's Oncology and Hematology Department, meaning there are just four nurses for every 10 beds.
"It feels like you have been pushed onto a battlefield without a gun," she said. "We have no idea what we will do next."
Meanwhile, private hospitals have no incentive to establish hospice wards because palliative care generates far less revenue per patient than the provision of treatment to prolong life.
The problem is compounded by the fact that most Chinese consider it their filial duty to pay to keep their elderly parents alive for as long as possible, regardless of quality of life.
Li said many families run out of money while paying for such treatment. That means they are unable to afford palliative care at the end, even though it is relatively cheap.
"Nobody wants to provide hospice care because it means investing energy while losing money," Li said, adding that the hospice is struggling to pay bills, but it doesn't have to pay rent because he owns the three-story building in which it is located.