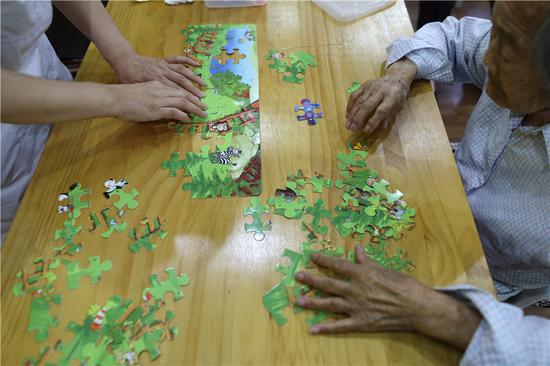 Seniors at Songtang play with a jigsaw puzzle. (Photo: China Daily/Wang Jing)
Slow rate of change
Now, things are changing, albeit slowly.
Starting next month, the National Health Commission will introduce the concept of hospice care in further education programs for oncologists nationwide.
Meanwhile, Peking Union Medical College is writing textbooks on palliative treatment, which will be included as an optional course in its eight-year medical degree.
The move could help change the mindset of doctors who are only used to providing treatment to prolong life.
"At least it will allow them to understand what palliative care is," Qin said.
Having seen many patients die in pain, she said her motivation for promoting hospice care is simple: "I just want to create a place where I would want to die. If I don't do this now, maybe I will have nowhere to stay in my last days."
She stressed that palliative care is intended to relieve pain and improve patients' quality of life in their final days, which can be more important than simply adding to their life span.
Life education
A member of staff at Songtang said there is another side to the story, because the hospice has become "a base for life education".
On the first day of the Dragon Boat Festival last month, Songtang hosted a group of high school students who felt they had performed poorly in the national university entrance exam. Experiencing the dying patients' positive attitudes to death helped brace the students and promote a different perspective.
Likewise, Qin feels she has been one of the biggest beneficiaries of her hospice ward because the patients have taught her how to live.
Despite 30 years' experience as a doctor, she had never heard of palliative care until her first visit to a hospice in Taiwan in 2012.
"Death was so typically ominous that I had never imagined there could be such a heart-warming farewell," she said.