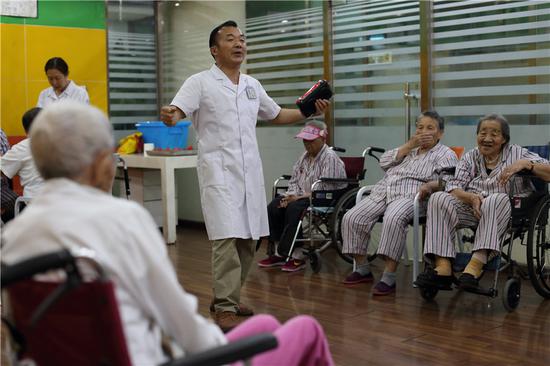 Ouyang Zifan, a carer at Songtang, sings for senior patients. (Photo: China Daily/Wang Jing)
Sense of mission
Li Songtang, 69, founded the Beijing Songtang Care Hospital in 1987 because of the "sense of mission" he developed as a "barefoot doctor", whose elementary training allowed him to provide basic medical treatment in isolated rural areas.
However, the hospice, one of China's first end-of-life care centers, was forced to change location seven times in 16 years because of people's unease about having such an institution near their homes.
Once, Li tried to relocate to a residential community, but locals surrounded the bus carrying the patients to prevent them from disembarking.
"It is a hospital of the dead. If we let them in we will never make a fortune," one resident shouted.
It wasn't until 2003 that the hospice found a permanent home outside the Fifth Ring Road, far from the downtown.
The mistrust even permeated Li's family life, and in the early days his wife would not let him into their home after work unless she was sure he had taken a bath and changed his clothes because she believed he would bring bad luck.
Despite these age-old cultural inhibitions, demand for palliative care is growing as China's population ages.
Last year, more than 240 million people were age 60 and older, accounting for about 17 percent of the population. Meanwhile, 9.86 million people died, about 19 every minute, according to the National Bureau of Statistics.
"Everyone dies. It is something that happens to us all," Li said.
So far, more than 40,000 terminally ill patients have finished their life journey at Songtang. The hospice currently has about 300 patients, with ages ranging from a 2-month-old baby to centenarians.
Though national health regulations stipulate that the maximum time a person can stay in a hospice is 15 days, the average stay at Songtang is 56 days. "You can't chase patients away if they are in a serious condition," Li said.
Sometimes patients stay much longer than the permitted time. Wang Longfeng moved into Songtang more than six months ago after she was diagnosed with myeloma, a cancer of the plasma cells, and told she had three months to live.
"I'm too young to die. I must be strong," the 65-year-old said, adding that she appreciates the sense of companionship at the hospice because she was lonely at home when her daughter went to work.