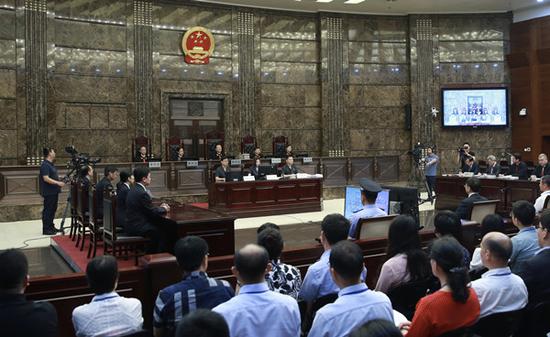 Zhang Wenzhong, founder and former chairman of Wumei Holdings, is pronounced not guilty at the Supreme People's Court on Thursday, reversing a decade-old verdict. (XU LIXIN/XINHUA)
Increased focus on rule of law leads to acquittal of retail tycoon
Chinese retail tycoon Zhang Wenzhong has experienced many turning points in his life, but none compare with the moment when he heard the country's top court pronounce him "innocent" on Thursday.
As the founder and former chairman of Wumei Holdings, the parent of retail chain Wumart Stores, Zhang had been hoping for the moment for more than a decade after being sentenced to prison for 18 years for fraud, embezzlement and corporate bribery in 2008.
However, on Thursday, the Supreme People's Court-after a final retrial-made the ruling that the original sentence was based on insufficient evidence and the laws applied were improper.
"When I heard the word 'innocent', I was trying hard to hold my tears," Zhang said. "After going through all these difficulties, I finally got such a result."
Zhang, 55, has been the first high-profile entrepreneur in the country whose name was cleared in such controversial property-related cases. Experts said the acquittal reflects ongoing efforts by the Communist Party of China and judicial authorities to better protect the legitimate rights of businessmen, particularly their property rights.
"It's the central leadership's determination and concrete measures that helped clear my name," Zhang said.
"The ruling is not only about me, but all entrepreneurs and entrepreneurship," he said. "I believe my case is a new beginning to rectify similar property-rights disputes involving private companies, and the correction will inject a new driving force into the development of private enterprises in China," Zhang said.
The correction has also been regarded by law professionals as an example of how the country is implementing its increasing focus on the rule of law.
Chen Weidong, a law professor at Renmin University of China, said some controversial court rulings in such cases reflected the historical limitations on how to view and handle private enterprises in China at that time. Judicial authorities' misunderstanding and wrongful application of laws should also be blamed.
Zhou Guangquan, a law professor at Tsinghua University, said the case provides a standard on how to try property-rights-related cases for grassroots courts.
Guilty verdicts
The case began to unfold in 2006, a year of both glory and a deep abyss for Zhang, a scholarly retailer. But his story first really got going years earlier, when, as a post-doctoral graduate from Stanford University School of Engineering, Zhang returned from the United States to China and set up his computing company in 1992, encouraged by China's reform and opening-up policies.
In 1994 Zhang established the first Wumart store in Beijing, which initially was designed to showcase the information-management system and point-of-sale devices he developed for Chinese retailers. The supermarket quickly drew the attention of millions of Beijing residents and reached revenue of 100 million yuan in the first year. In 2004, Wumart took up about one-third of Beijing's retail market.
In November 2003, Wumart was listed on the Hong Kong Stock Exchange, and quickly expanded its retail empire through acquisitions and mergers of local retailers, including Merry Mart and Ningxia Xinhua Department Store. The information system developed by Zhang also received top awards by the China General Chamber of Commerce.
However, at the peak of Wumart's expansion in 2006, his days of glory, Zhang was probed by the country's top disciplinary watchdog in a case related to then vice-mayor of Beijing Liu Zhihua. Later that year, as he began to fall into the abyss, Zhang resigned from Wumei. Liu received a suspended death sentence in 2008 for taking about 7 million yuan in bribes.
Also in 2008, Zhang was sentenced to 18 years by the Hengshui Intermediate People's Court in Hebei province, but for crimes unrelated to Liu's case.
The verdict said Zhang was guilty of defrauding 31.9 million yuan from a national subsidy, the most severe crime of the three charges against him. The court said although Zhang knew that private enterprises were not eligible to apply for the subsidy, which was mainly granted to State-owned companies, he still faked materials to get the money.
The other two charges were about Wumei's bribing senior executives of other two companies in order to facilitate the acquisition of Taikang Life Insurance Co Ltd, and Zhang's misappropriating tens of millions of yuan of company money for personal investments in the stock market. Though he later returned the money, illegal gains were kept, the court ruled.
Zhang was also given a fine of 500,000 yuan. The hearing, which lasted 16 hours, was not open to public, according to media reports at the time.
After the first sentencing, Zhang started his decadelong appeal. In March 2009, the Hebei Provincial High People's Court upheld the conviction, but cut the jail term to 12 years.
"The law application of the ruling was seriously wrong," Zhang's lawyer Zhao Bingzhi has repeatedly argued. He said the national subsidy never banned private enterprises, and no one told his client he could not apply for the subsidy.
On Thursday, the top court accepted Zhao's argument and said the other two charges could not stand due to insufficient evidence and the incorrect application of law.
However, the loss is immense to both Zhang and Wumei. With the absence of its founder and soul leader, the company has missed the most dynamic and fast changing era for retailers in the country. Its business has remained stagnant for years and it exited from the Hong Kong Stock Exchange in 2015.