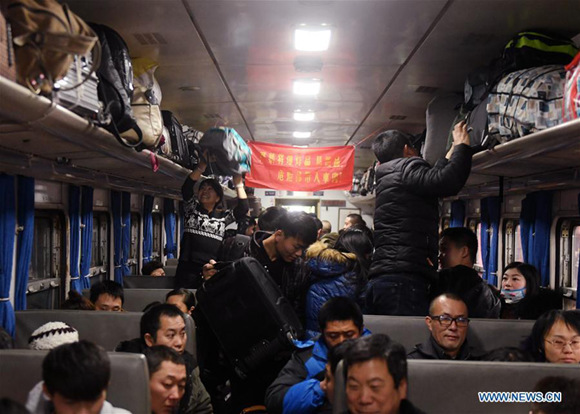 Passengers are seen on a train to Chongqing at Beijing Railway Station in Beijing, capital of China, Feb. 1, 2018. (Xinhua/Zhang Chenlin)
Instead of heading home for the upcoming Chinese New Year holiday, Sun Tao, an IT worker in Beijing, has booked two tickets from his hometown in Guizhou Province, over 2,000 km away, to Beijing.
Sun, 26, bought the tickets for his parents who are coming for the festival, as well as a tour in Beijing.
As people stream out of the cities to return home, Sun's parents will be traveling against the flow in plane. A comfortable Guizhou-Beijing-Guizhou trip is about a quarter of the cost of taking a plane in the opposite direction.
Chinese New Year falls on Feb. 16 this year and around 2.98 billion trips will be made during the 40 days around the festival, including 390 million trips by train, up 8.8 percent on last year.
New Year is the most important time of the year for Chinese families to get together. While migrant workers scramble for tickets home, more elderly parents and children are going in the opposite direction, meeting their loved ones in their new homes, with the added benefit of a tourist trip.
It will be the first time that Sun's parents have spent Chinese New Year in Beijing, and they are very excited about the trip.
"Endless banquets and door-to-door visits for new year greetings every year have made the festival dull," said Sun senior.
This year, railway companies are offering discounts to big cities such as Beijing, Shanghai and Guangzhou to encourage more people to join the "rush in reverse."
Tian Shengli is a native of Shanxi Province who works in Beijing. He bought train tickets for his parents to visit Beijing, as he was reluctant to be crammed into a crowded train. Tian said his once rural hometown has lost its charm for festival celebrations as it was pretty much a city now, and had preserved few traditions.
"Having my parents in Beijing is the perfect way to save them from having to feed numerous relatives and giving gifts of money," he said.
Wei Xiang, associate professor with the Chinese Academy of Social Sciences, said the reverse travel trend was making better use of resources and easing some of the pressure on those departing from big cities.
"It doesn't matter where I spend the Chinese New Year, but who I spend it with does. Home is wherever my family are," Tian said.