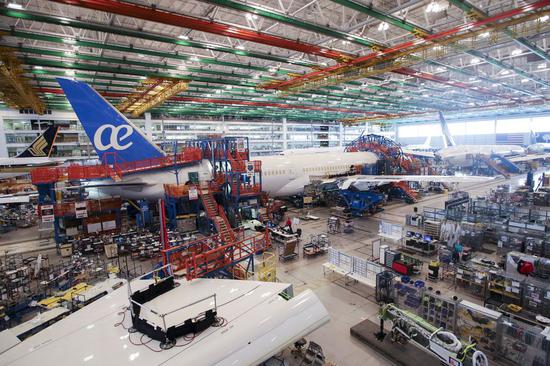 Photo taken on Jan. 26, 2018 shows interior of the final assembly building in Boeing South Carolina in North Charleston, South Carolina of the United States. (Xinhua/Wang Ying)
Special: Battle Against Novel Coronavirus
Boeing on Monday announced to temporarily suspend all 787 operations at Boeing South Carolina (BSC) until further notice.
The suspension will start on Wednesday and impact the Airport Campus, Emergent Operations, Interiors Responsibility Center South Carolina and Propulsion South Carolina.
"It is our commitment to focus on the health and safety of our teammates while assessing the spread of the virus across the state, its impact on the reliability of our global supply chain and that ripple effect on the 787 program," said Brad Zaback, vice president and general manager of the 787 Program and BSC site leader.
During this time of suspension on the 787 program, Boeing will continue to conduct enhanced cleaning activities at the site and monitor the global supply chain as the situation evolves, the company said.