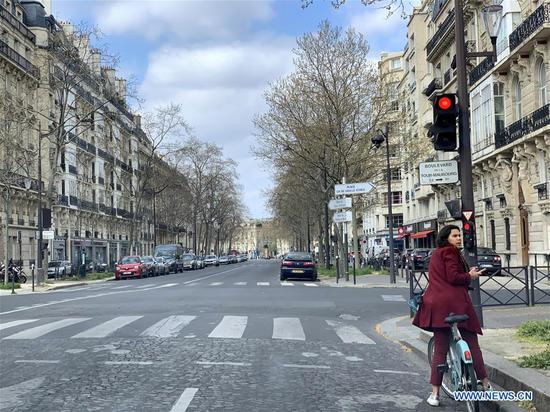 A woman is seen on an empty street in Paris, France, on April 2, 2020. (Xinhua/Tang Ji)
Special: Battle Against Novel Coronavirus
France has recorded its highest death toll from COVID-19 since the outbreak began.
Health Minister Olivier Véran announced that the country has recorded 833 deaths in 24 hours, taking the total number of fatalities to 8,911.
France is one of the COVID-19 worst affected countries in Europe, with only Italy and Spain having recorded more deaths.
"We have not yet reached the end of the ascent of this epidemic," Véran said in his address.
The COVID-19 pandemic continues to spread across the world, with figures rising each day.
Globally, more than 1.3 million cases have been recorded, with over 72,000 deaths. More than 273,000 people have fully recovered.