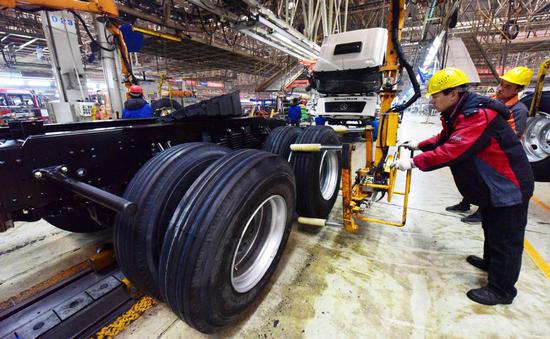 Employees of Shaanxi Automobile and Equipment Co Ltd work at the company's truck assembly line in Xi'an, capital of Northwest China's Shaanxi province, on Jan 3. (Photo by YUAN JINGZHI/FOR CHINA DAILY)
Quality of growth steadily improving, as nation rolls out further supportive measures, official statistics show
China's economic structure has continued to optimize, as new growth drivers strengthened last year, according to data released by the National Bureau of Statistics on Monday.
The value added of the tertiary sector increased by 7.6 percent year-on-year to 46.96 trillion yuan ($6.92 trillion) in 2018, accounting for 52.2 percent of the country's gross domestic product, up by 0.3 percentage point from 2017. The growth rate of the value added of the tertiary sector was 1.8 percentage points higher than that of the secondary industry.
The role of consumption as a main driver of economic growth has further consolidated. Final consumption expenditure accounted for 76.2 percent of GDP growth last year, rising by 18.6 percentage points year-on-year.
China has also firmly pushed ahead with green development. The country's energy consumption for every 10,000 yuan of its GDP fell 3.1 percent year-on-year in 2018. Its structure of energy consumption has kept improving, with the proportion of clean energy in the total energy consumption increasing by about 1.3 percentage points from the previous year, according to the National Bureau of Statistics.
"In spite of the increasing pressure on growth deceleration at the present stage, two major factors are consolidating the basis of Chinese economic growth. On the one hand, the quality of the economy is steadily improving, as further promotion of economic structure optimization and the development of high-end manufacturing continuously improves production efficiency," said Cheng Shi, chief economist of ICBC International Holdings Ltd, in a research note.
"On the other hand, relatively loose fiscal policy is speeding up to take effect, which will underpin the economy and help relieve structural bottlenecks of the monetary policy," Cheng said.
He noted that in 2018, year-on-year growth of the value added of the high-tech manufacturing, equipment manufacturing and strategic emerging industries was 5.5, 1.9 and 2.7 percentage points higher respectively, than that of industrial enterprises above designated size-referring to industrial enterprises with an annual main business revenue of 20 million yuan or more.
During the same period, the growth of private investment increased by 2.7 percentage points, showing that market forces have driven up financial supply to high-quality businesses. The year-on-year growth of investment in high-tech manufacturing and equipment manufacturing was 6.6 and 1.6 percentage points higher than that of the overall manufacturing industry respectively.
Ning Jizhe, commissioner of the National Bureau of Statistics, said on Monday that China has ample room for macro policy support.
Looking ahead, a new round of policies to stabilize the economy is likely to be carried out in multiple aspects in 2019, based on abundant room for internal policies and the demand to resist pressure from external factors, economists said.
According to Cheng, an expected increase in the quota for local government bond issuance this year may help infrastructure investment to grow by 8 percent. Furthermore, the People's Bank of China, the central bank, is expected to implement reserve requirement ratio cuts or targeted RRR cuts by no less than 250 basis points for the whole year. In view of this, China will still hold the bottom line of stabilizing the economy and preventing risks this year.
"We believe that the start of spring is not far away from the big chill. It is highly possible that the Chinese economy will stabilize and rebound in the first quarter of 2019, and the growth will hopefully exceed market expectations," he said.
Countercyclical regulation, or efforts to stabilize the economy so that growth will not slow down too fast, is a major goal to achieve in the next two years, apart from supply-side structural reform, said Chen Xingdong, chief China economist at BNP Paribas.
It is imperative for China to have a larger-scale reduction of taxes and fees, as the effects of fiscal policy on containing rapid slowdown of growth are considered increasingly important, according to Chen.
"Tax and fee cuts will hopefully reach 2 trillion yuan in 2019, the equivalent of about 2 percent of China's GDP for the whole year," he said.
Data from the Ministry of Finance show that the country reduced taxes and fees by about 1.3 trillion yuan last year.
Chen also advised the government to spur loan demand of large and medium-sized enterprises by approving infrastructure construction projects, in addition to satisfying the credit needs of small and micro-sized enterprises.