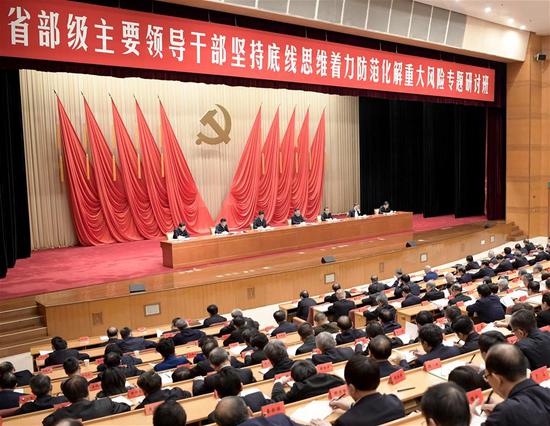 Chinese President Xi Jinping, also general secretary of the Communist Party of China (CPC) Central Committee and chairman of the Central Military Commission, addresses the opening ceremony of a study session at the Party School of the CPC Central Committee attended by senior provincial and ministerial officials in Beijing, capital of China, on Jan 21, 2019. (Photo/Xinhua)
Xi outlines nation's major challenges at symposium for senior officials
President Xi Jinping emphasized the need for greater capacity among the country's senior officials to prevent and defuse major risks to enable the sustained, healthy development of the economy and social stability.
Xi, also general secretary of the Communist Party of China Central Committee and chairman of the Central Military Commission, made the remark during the opening ceremony of a symposium attended by senior provincial and ministerial officials on Monday.
Xi provided analysis and instructions on preventing and defusing major risks in areas including politics, ideology, economy, science and technology, society, the environment and Party building.
He stressed the need to stay highly vigilant given that the country is faced with an unpredictable international landscape, complicated and sensitive situations in the neighboring region and arduous tasks in pursing reform, development and stability.
He also called for high alertness for any unforeseen occurrence that could have extreme consequences, and fending off any obvious yet ignored threat.
Xi said there are new and worrisome developments amid the generally stable operation of the economy.
He highlighted the need to maintain strategic resolve to enable economic growth to follow the right direction, and to be ever ready to protect against potential dangers during peacetime.
He also called for precise research and analysis of possible major risks in the economy and coping with them appropriately.
Long-term mechanisms for the stable and healthy development of the real estate market should be applied properly, and more efforts should be made to analyze market sentiment, he said.
Evaluations of policymaking's influence on the financial market should be conducted to better guide expectations, he said.
Xi also called for concrete solutions to difficulties and high costs in the financing of small and micro businesses.