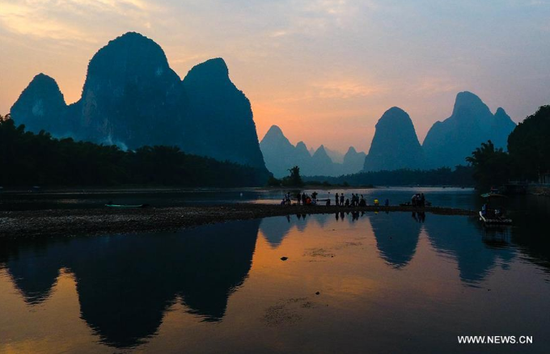 Photo taken on Oct 25, 2017 shows the scenery of Lijiang River in Guilin, a famous tourist destination in South China's Guangxi Zhuang autonomous region. (Photo/Xinhua)
Home to the largest number of ethnic minorities in China, Guangxi Zhuang Autonomous Region marks its 60th anniversary on Monday.
Here is some recent data on the region, which is reshaping its image from an economic backwater to a booming border trade hub.
NEW ENGINES
Guangxi's GDP reached 2 trillion yuan (296 billion U.S. dollars) in 2017, a world away from the 2.4 billion yuan in 1958 upon its founding, when it had barely any industry.
The region is an important agricultural base of China, producing over 60 percent of the country's sugarcane, half of silkworm cocoon and 45 percent of timber.
It witnessed fast industrialization over the decades, with new engines emerging in sectors including food processing, metallurgy, machinery and electronic information. It is now an important car manufacturing base, producing 2.4 million vehicles annually.
Tourism has become a pillar industry of Guangxi, which boasts the scenic town of Guilin. It recorded tourism consumption of 570 billion yuan in the first three quarters of 2018.
SOUTHERN GATEWAY
Boasting both sea and land links with Southeast Asia, Guangxi has cast itself as an important gateway towards ASEAN countries. Its foreign trade was boosted by the proposal of the Belt and Road Initiative in 2013 and holding the China-ASEAN Expo from 2004.
ASEAN has been the region's largest foreign trade partner for 17 years in a row. Guangxi's trade with ASEAN reached 189 billion yuan in 2017 with an annual growth of 27.1 percent in the past 15 years.
Guangxi's Beibu Gulf is an important transit in the New International Land-Sea Trade Corridor that connects western China and Southeast Asia with sea and rail intermodal routes. Ship routes link the gulf with over 200 ports in the world, including all the major ports in ASEAN.
Boosted by the booming border trade, Guangxi recorded 932.4 billion yuan in cross-border RMB settlement by the end of September, top among China's border regions.